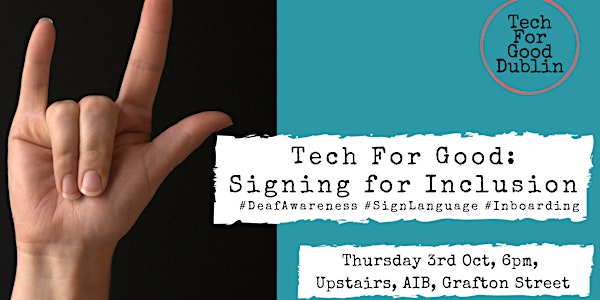 Signing for Inclusion
Tech for Good Dublin in October focuses on how tech supports the adoption of Irish sign language and improves inclusion for deaf people.
When and where
Location
AIB Bank 101 Grafton Street (upstairs) Dublin 2 Ireland
About this event
Join Tech for Good community at: https://www.meetup.com/TechForGood-Dublin/
This event marks the official launch of the new, free Irish Sign Language App, created by the Inboarding team. The Inboarding team, volunteers and the Deaf community have come together to create a free app that aims to improve communication with deaf team members in the workplace. Guest presentations and demos will be followed by a short practical workshop where you'll get a chance to learn some Irish sign language! Free tea/coffee and treats available for everyone attending.
Introduction:
Lydia Gratis introduces us to the culture of Irish sign language and shares from personal experience how important adoption is for inclusion. Lydia is going into her 3rd year as the chairperson of the Irish Deaf Youth Association (IDYA) a non-profit organisation that caters to deaf and hard of hearing youth and young adults all over Ireland aged 13 – 35. She is founder of COAB platform (Chronicles of a Blossom), social media admin for LYN (Love Your Neighbour) and studying International Development at Maynooth University.
Inboarding Showcase and Presentation:
The Inboarding team use tech including chatbots and adaptive micro learning to create an inclusive workplace. Their initial focus is on creating an inclusive onboarding experience for Deaf team members. Their vision is to increase inclusion in the workplace across gender, race, culture and disability.
Fernanda Martins
Designer and specialist in bilingual education for Deaf children. CODA (Child of Deaf Adults), sign language was her first language and her mission is to help the Deaf community showing that the Deaf can do anything except hear.
https://twitter.com/nandamartins31
https://www.linkedin.com/in/fernanda-dos-santos-martins
Robson Mafra
Software Engineer and technology enthusiast. More than ten years of experience in software development, on the last years working on technologies focused on Deaf community, sign language, inclusion and WorkerTech.
https://twitter.com/rrobsonmafra
https://www.linkedin.com/in/robsonvmafra
Workshop: Start a conversation in Irish Sign Language
Transformation starts with small actions and the new Irish Language app helps promotes inclusion in a practical way by helping us to start conversation in Irish Sign Language.
Emma Nolan, Deaf and Irish Sign Language teacher, who helped develop the app, will teach us how to sign hello and start a conversation in Irish sign language.
Event is sponsored by Liberty IT and AIB.