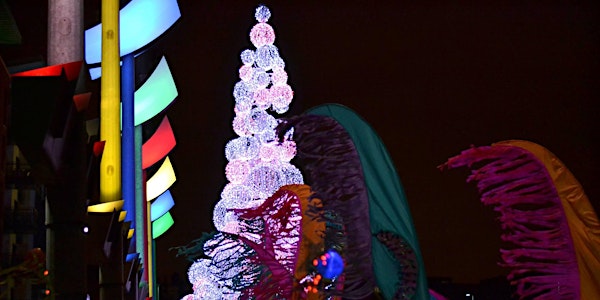 Smashing Times City of Dublin Winter Solstice Celebration Festival 2019
The 10th annual City of Dublin Winter Solstice Celebration Festival takes place on Friday 20 December 2019 in TU Dublin Grangegorman Campus.
When and where
Location
TU Dublin Grangegorman Grangegorman Lower Arran Quay Dublin Ireland
Refund Policy
Contact the organiser to request a refund.
About this event
Join us for the 10th annual City of Dublin Winter Solstice Celebration Festival, a magical indoor festival and outdoor ceremony, honouring the Winter Solstice on December 20, from 4-6.30pm, marking the shortest day of the year which is celebrated worldwide across a range of cultures. The festival begins at 4pm at TU Dublin, Grangegorman Campus and is presented by Smashing Times and Slí an Chroí, in partnership with Technological University Dublin (TU Dublin).
Where: TU Dublin Grangegorman Campus
When: Friday, 20 December, 2019, 4-6.30pm
This years' festival themes are Legends of the Great Birth and the environment. The festival features an Irish premiere of an original storytelling performance Legends of the Great Birth featuring theatre and song to animate imaginative and mythological traditions from across Europe. Enjoy a Legend of the Great Birth Theatre workshop exploring our common European mythological heritage, myths of creation and legends from the Winter Solstice. The work is presented as part of a European wide transnational project Legends of the Great Birth supported by Creative Europe, implemented in the framework of the European Year of Cultural Heritage 2018. The seven project partners are Aeroplio Theatre, Greece (lead partner); Smashing Times, Ireland; Action Synergy, Greece; Fusion of Arts, Romania; AIDA Fondazione, Italy; Stella Polaris, Norway; and Stowarzyszenie Teatr Krzyk, Poland.
Indoor Festival 4pm-6pm – What's On
The gathering begins. All are welcome.
Fáilte Welcome Room 4-6pm
In this space, celebrated singer and song-writer Hilary Bow performs her own original music. Visit our face-painting station where young and old can join in and have one of our experienced and super-talented face painters work their magic. Have a traditional Celtic design or a fun animal or colourful character design. Visit our Snowflakes Corner where the Ice Queen and her fairies will demonstrate how to make snowflakes and tell wonderful stories of wonder and magic or visit the Children's Reading and Colouring Corner. A tea, coffee and snack service is available.
Legends of the Great Birth Céili Dancing and Storytelling Performance, 4-6pm
Enjoy a spectacular Céilí featuring traditional Irish music and dancing led by the renowned Brian Boru Céilí band, and featuring a Legends of the Great Birth storytelling performance. Young and old are invited to enjoy an energetic and engaging family-friendly, fun céilí and set dancing session intermixed with storytelling and song inspired by the Winter Solstice and myths of creation.
Winter Solstice Storytelling Performance
Two shows: 4pm and 5pm
Enjoy the City of Dublin Winter Solstice Storytelling performance featuring Twas the Night Before Christmas, The Shamanic Santa Story, How the Fox stole Solstice, The Children of Lir and more. Come and be entertained by our wonderful actors, singers and storytellers. Click Green Button Top Right to book.
The Gathering Space 4-6pm
On the shortest day of the year explore a range of stands to celebrate the environment and the natural world with stalls presented by our friends from Friends of the Earth, ECO-UNESCO and Concern Worldwide Ireland. Chat with our Bee-Master Seamus Maher from the South Laois Bee Keepers Association about keeping honey bees in your own backyard and learn about the importance of bees. We are delighted to welcome back the Irish Wolfhound Club of Ireland. Come along and say hello to a real Irish Wolfhound, the national dog of Ireland. The Irish Wolfhound has been recorded for centuries in mythology as well as official records and existed in Ireland from the 1st century AD at a time when the mythological Irish hero Setanta earned the name 'Cú Chulainn' (hound of Culann). Join our craft table where you can create your own personal 'withy' - a decorated twig with your blessings, prayers, wishes – and visit the Winter Solstice Myths of Creation Corner and hear Norse, Irish, Polish and other myths of creation.
Meet and Greet 4-6pm
Enjoy our walk-about characters from ancient times as they regale you with stories of the Winter Solstice and myths of creation and sing about magic and love.
Please make vendors aware of any known allergens.
Winter Solstice Workshop Programme
Winter Solstice Creative Craft Workshop for Children
Workshops: 4-4.45pm and 5-5.45pm
Join our magical creative craft workshop for children. Visual artist Kim Jenkinson will host a wonderfully creative and original arts and crafts workshop where children of all ages will design and create leaf crowns and ribbon wands using a mix of greenery and organic materials to decorate the crowns and ribbon wands. Children are then invited to wear their new creations as part of the outdoor event at 6pm to welcome the return of the Sun Queen. The workshop runs for 45 minutes and caters for children ages 2-14, children to be accompanied by parents or guardian. Staff are Garda-vetted. Requires booking and registration fee €10 per child, places limited to 10 children per workshop. Click Green Button Top Right to book.
Legends of the Great Birth Theatre Workshop
Workshops: 4-5pm and 5-6pm
Join our magical creative theatre workshop hosted by theatre artist Michael Mc Cabe using fun drama-based games and exercises to explore storytelling inspired by legends of the Great Birth from across Europe. For thousands of years, people from all cultures have told stories to make sense of the world around them. These stories are called myths. Myths are made-up, they tell fictional stories about ancient people's beliefs and the Gods they worshipped. Come and hear some interesting myths and legends and make up your own! The workshop is sixty minutes, no prior experience is necessary, for ages 18 and up. No prior experience of theatre is required. Requires booking and booking fee €10 per participant. Places limited to 15 per workshop. Click Green Button Top Right to book.
Outdoor Festival
6pm, An Croí, TU Dublin Grangegorman Campus
At 6pm, festival moves outside to An Croí, the square of the TU Dublin Grangegorman campus, to watch a colourful, choreographed movement performance celebrating the arrival onto the square of the Snow Queen and Ice princesses, followed by the magnificent Sun Goddess. Singer and songwriter Hilary Bow will perform a song to celebrate the Solstice.
Celebration Festival
This family-friendly and inclusive festival is a colourful gathering of local communities with national and international visitors and people of all ethnicities and cultures. The event marks the turn of the seasons as attendees gather together and celebrate this special turning point in the year. It celebrates the return of the light, as the days begin to lengthen once more, and as such is an occasion of rebirth and renewal.
The celebration of the winter solstice has its roots in many cultures worldwide, particularly the Celtic traditions, where druids – wise women and men – would cut the mistletoe that grew on the oak tree and offer it as a blessing each year. According to an old Celtic myth, on the solstices of each year the Oak Queen, representing the light, and the Holly Queen, representing the dark, would fight, with the Oak Queen emerging victorious at the winter solstice, enabling the return of the light.
Booking and Fees
Entry to festival events is free apart from the Winter Solstice Creative Craft Workshop for Children and the Legends of the Great Birth Theatre workshop. A booking and admission fee are required for these workshops and must be made in advance via Eventbrite.
Location
With a central location just minutes from Dublin City Centre, Rathdown House is situation at the entrance to the new TU Dublin Campus at Grangegorman and is easily accessible by foot, bike, Luas, bus and car. Street Parking is available on Rathdown Road outside the DIT Grangegorman Campus.
For more information see www.smashingtimes.ie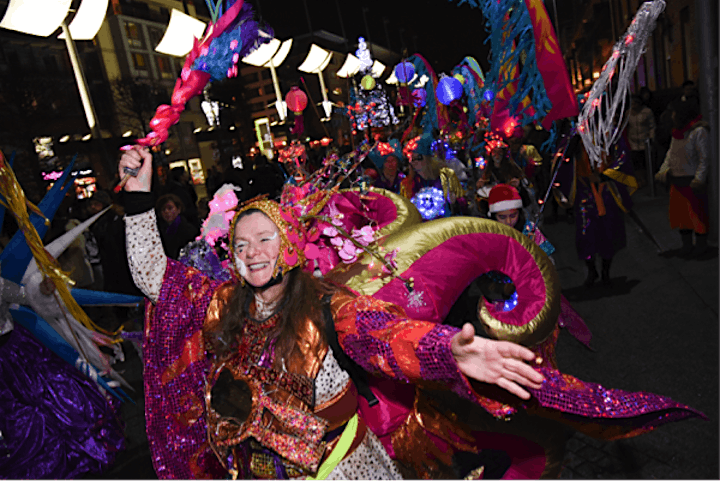 The City of Dublin Winter Solstice Celebration Festival is a family-friendly, participatory and inclusive event. The focus is to provide the opportunity for artists and audiences to interact in a celebratory context, raise awareness on our relationship with the environment, and to offer the enjoyment of movement, music, and theatre.
Next Day Event – Winter Solstice Celebration of Ancestral Honouring
Where: Smithfield Square
When: Saturday, 21 December, 2019, 6pm
On Saturday, 21 December, come join John Cantwell and Karen Ward of local Slí an Chroí Holistic Centre for a 'Celtic Journey' meditation on Smithfield Square at 6pm by the Christmas Tree. The flame of Newgrange will be lit by a child at dawn from the first rays of the rising Sun. This will be preceded by a Winter Solstice Feast at L Mulligans Grocers, Stoneybatter Village and their co-founder Seáneen Sullivan, to sample the hearty food our ancestors would have enjoyed at the time of mid-winter. The details of this exciting event will be announced on Slí an Chroí Facebook page soon, as booking will be essential.