Soup is a kinetic shrine to a lost parent and an absurd meditation on the process of grief.
About this event
Headonbody presents, SOUP By Deirdre Griffin & Craig Cox
Soup is a kinetic shrine to a lost parent and an absurd meditation on the process of grief. It exists inside a fey mirror world built out of vegetables, polystyrene heads, the kitchen table and inhabited by a sinuous doppelgänger. Performed with a mutant physicality, it is simultaneously brutish, sensual, ridiculous and vulnerable. It see-saws between hilarious and harrowing as it reaches for a shared state of catharsis with the audience. Soup was created by Performer and Choreographer Deirdre Griffin in collaboration with Sound Designer Craig Cox.
'Soup is a genre-bending performance that rewrites familiar experiences in thrilling, intimate new ways' - Ruth McGowan, Dublin Fringe Director.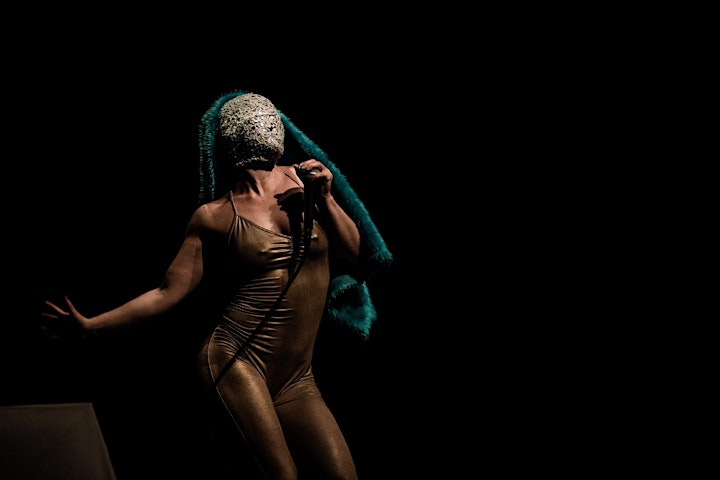 Deirdre Griffin is a Dublin based performer and choreographer. She established her performance company, Headonbody, to create works characterised by wild absurdity and high physicality. To date her company has presented shows in Ireland and Germany including "Pantastic!!" and "The Queer Quartet". SOUP is a collaboration with sound artist Craig Cox. Nominated for RADICAL SPIRIT AWARD and BEST PERFORMER at Dublin Fringe Festival 2019.
Craig Cox is a composer and sound artist based in Dublin. His has worked extensively in inter-disciplinary projects, most frequently with the contemporary circus and dance company Loosysmokes. He holds a BA in Visual Arts Practice from IADT and an MA in Contemporary Composition from UL. He was most recently awarded an Arts Council Music Bursary in late 2020 and an Agility Award in June of this year. He is currently developing a number of ensemble works to be publicly presented later in 2021 and early 2022, specifically for string quartet and soprano duet. www.craigcox.ie
Booking Guidelines:
West Cork Arts Centre is optimistically looking forward to the future release of details from our Government regarding easing of restrictions for arts venues on October 22nd. In the meantime for the wellbeing of our audience and staff, we will continue our policies of social distancing, face coverings, and reduced capacity for our performances during Uillinn Dance Season until advised otherwise.Booking is essential, please do this via Eventbrite
If you have any access needs please contact reception directly 02822090 or info@westcorkartscentre.com
You may book tickets for a pod of up to 6 people, please do this in one session.
After booking we ask you to keep an eye on your emails for any updates advise you of any updates by email prior to your event
Do not attend if you feel unwell.
Please arrive no less than 15 minutes before performance time.
Please follow physical distancing guidelines upon arrival and exit
All attendees over the age of 13 must wear a face covering at all times during arrival, performance and until they have exited the building.
You must sit in your assigned seat these will be marked with the name of the person who booked the tickets
Organiser of Soup - Uillinn Dance Season 2021
Uillinn: West Cork Arts Centre is a hub of arts activity right in the heart of Skibbereen. Its two main galleries house contemporary art exhibitions that intrigue and inspire, presenting artwork by local, national and international artists and a programme of guided tours, gallery talks and free gallery resources such as the Discovery Box for families and Children's Activity Sheets.
The three Artists' Studios provide space for Irish and international artists to work on site and to meet the public and the Dance Residency brings top-class contemporary dancers, choreographers, performers and musicians to Uillinn to develop new work and present it to the public throughout the year.
The vibrant and diverse education programme enriches the visitor experience through workshops, masterclasses, dance and discussion platforms and encourages equality of access for people of all ages and cultures through its long-term programmes and projects.
Many of the programmes and events are free of charge.
Perfect for rainy day activities, or to relax and enjoy a delicious coffee and cake in the sunny, sheltered courtyard courtesy of The Coffee Shop at Uillinn, West Cork Arts Centre has something for everyone.
With an average of 20 programmes and events every week, keep up to date on all that Uillinn has to offer by following on facebook and twitter and check out
www.westcorkartscentre.com