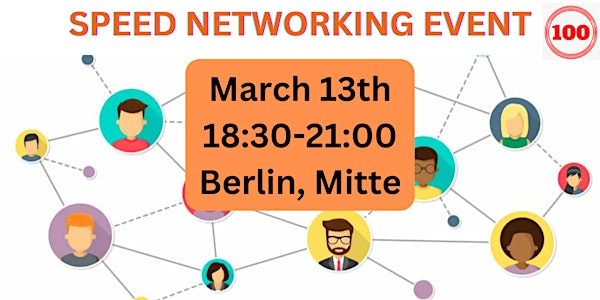 Speed Networking - B2B Sales
Gain a large amount of valuable contacts in a short amount of time! Business matchmaking at speed. Sign up now as seats are limited!
Date and time
Mon, 13 Mar 2023 18:30 - 21:00 CET
Location
St. Oberholz Rosenthaler Straße 72A 10119 Berlin Germany
About this event
Join us on Monday, March 13th between 18:30-21:00 in St. Oberholz, located on the first floor of a historic building in Berlin Mitte, at Rosenthaler Platz.
Our B2B Speed Networking event is an extremely time-saving and effective way of making professional contacts with like-minded people.
Make as many connections as possible in a fun, friendly and fast paced environment!
Agenda:
18:30-19:00 Welcome / Check-In
19:00-20:00 "Power hour" - Speed networking to make valuable business connections
20:00-21:00 Socialising, mingling, free networking
The concept:
Speed networking is designed to help you accelerate your business contacts through facilitated introductions and conversations – at speed. We'll rotate all participants so that each person gets the chance to engage 1 on 1 with as many people as possible. For each rotation, you have a set time – generally 5-6 minutes each – to introduce yourself and learn more about the other person, making speed networking highly efficient.
Please, be on time and don't miss our "power hour"!
To get the most out of this format and to maximise the connections, we limit the participants to 2 people/per company.
Speed Networking for Sales Professionals (free)
Venue: St. Oberholz in Berlin Mitte at Rosenthaler Platz (Rosenthaler Strasse 72A)
St. Oberholz opened in Berlin Mitte in 2005: a creative hub that is now internationally known and is considered a milestone in the history of coworking in Europe. It is located in an historic building and includes a café, coworking spaces, and various conference rooms.
Wide variety of drink options at the bar (beer, wine, coffee, tea, soft drinks)
Web: https://sanktoberholz.coffee/
Nearest Station: U-Rosenthaler Platz (U8). Tram M1 and M8.
Are you in B2B Sales? Are you interested in getting to know other sales people in Berlin, growing your network and making new connections? If yes, this event is for you!
Club 100 is a network of enterprise sales professionals, we organize regular B2B sales events in Berlin, share knowledge and help you learn from others and make new connections! Our events are limited to a small group of people allowing you to have quality conversations in a nice and friendly atmosphere.
Follow us on LinkedIn: https://www.linkedin.com/company/76359963
Registration is necessary.
The Club 100 Team
FAQ:
1. Who is this event for?
In order to maximize the networking opportunity and in the interest of the event, this Meetup is dedicated towards Sales Professionals and Sales Leaders. We limit the attendance to 2 people per company.
2. How will I find you?
We have a reserved area for our group. Our organizers will welcome you and show you where we sit. Once registered, we'll also send you further instructions about the venue/our contact details.
3. Can I bring my friend?
We have limited places available, so please make sure to sign up early and register your friend as well.
4. What if I no longer can come?
If for whatever reason you can no longer attend, please inform us in advance (48 hours prior to the event) so we can add someone else from the waitlist. You can cancel your ticket via the app or send us an email to info@club100b2b.com
5. I signed up for the event but I didn't get the confirmation.
If your profile matches, we'll send you the confirmation details with the exact location of the event.
6. What if I can't be there at the beginning?
If you are late or can't be there for the power hour, you can also join the free networking/mingling, starting at around 20:00.
Event is subject to change.