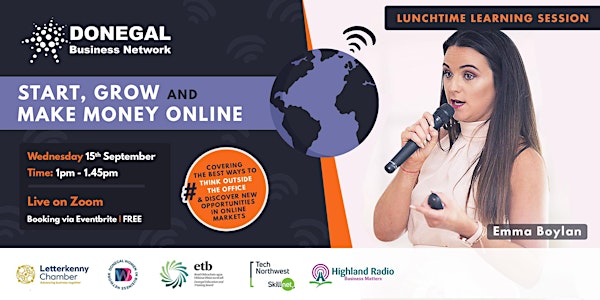 Start, Grow and Make Money Online - Tips and advice for businesses
A short 30 minute guide on promoting your business online with Emma Boylan of Outside the Box PR - via Zoom and Donegal Business Network
About this event
Emma Boylan - A short 30 minute guide on promoting your business online to make more money.
What you will learn?
In this training we will cover how to start, grow and make money online under the following topics;
• Ways to Make Money Online
• Building and Selling and Online Course
• Tools You Need to Work Online
• Building Your Brand Online
• How to Market and Sell Online
• Social Media ; What To Post
• Q&A
Who is the event for?
Small to medium sized businesses, Entrepreneurs and Solopreneurs in Donegal or Ireland generally who market their products and services online to reach the right audiences. .
Speaker bio:
Emma is a business and marketing coach and speaker who has worked with clients who has delivered workshops or training in many countries.
The above Lunch & Learn will be a 45 minutes session of content and 15 minutes for questions. We will use ZOOM to deliver this meeting online.
Register at Eventbrite FREE. Event will be recorded. Participants will all be muted by default, video will be controlled, admission will be managed for your comfort, attendees should show a name rather than Samsung mobile or iPhone 11.
All registrants will be sent the link as it is a limited capacity meeting specifically for certain Donegal Business Networks and approved guests.