Este evento ha finalizado.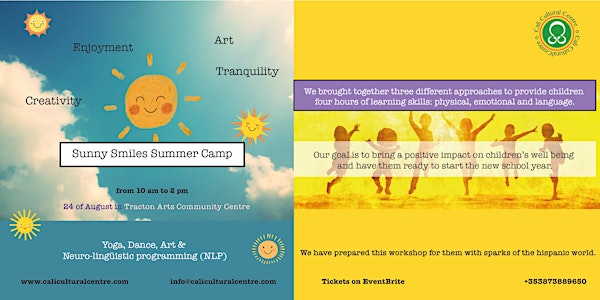 Sunny Smiles Summer Camp
Bring a positive impact on children's well being and have them ready to start thee new school year.
Cuándo y dónde
Ubicación
Tracton Arts and Community Centre Minane, Minane Bridge Co. Cork Minane Bridge Ireland
Política de reembolso
Contacta con el organizador para solicitar un reembolso.
Acerca de este evento
Dance for kids
The physical benefits of dance as exercise are well documented. Experts have shown that physical activity increases special neurotransmitter substances in the brain (endorphins). These create a state of well-being. Dance can help to stay physically fit and enjoy the pleasure of creating rhythmic motions with the body.
Art for kids
Creating art influences brain wave patterns and the substances released by the brain. It helps people express hidden emotions. It reduces stress, fear, and anxiety. It can also provide a sense of freedom.
Yoga for kids
Yoga is not just for adults! it can give children very important life skills. It improves children's emotional regulation as they learn to be in the present moment while relaxing and gaining a peaceful state of mind.
NLP for kids
NLP for children provide tools and strategies needed to improve the development in their education with the aim to make their learning more effective and efficient from an early age.