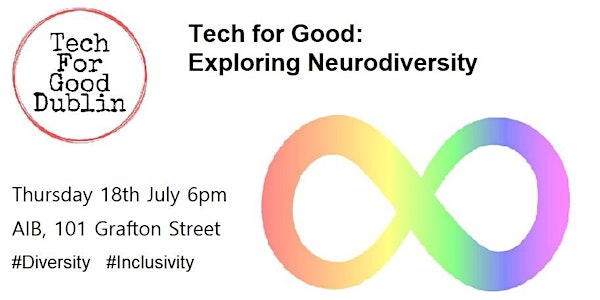 Tech for Good: Exploring Neurodiversity
Speakers will share their experiences working with technology that supports people with autism spectrum disorders and dyslexia.
When and where
Location
AIB Bank 101 Grafton Street (upstairs) Dublin 2 Ireland
About this event
Neurodiversity refers to variations in the human brain regarding sociability, learning, attention, mood, and other mental functions. It can include Autism Spectrum Disorder, Dyslexia, ADHD, Dyspraxia and other variations which are often invisible to other people. Important work is happening in Ireland to understand different neurological experiences and overcome associated challenges.
This event will include speakers who work in the field of Neurodiversity explaining more about the topic and how tools and technologies are being used to make public spaces, workplaces and schools more comfortable and accessible for everyone. There will be the usual chance to network, eat donuts and ask questions. We welcome everyone at our events, so please tell your family, friends and colleagues….
Professor Lizbeth Goodman - SMARTlab Founder and Director (Ireland, UK and International)
Lizbeth Goodman is Professor of Inclusive Design and Chair of Creative Technology Innovation at UCD, where she directs SMARTlab and the Inclusive Design Research Centre of Ireland. SMARTlab has at heart a 'universal design' concept. By designing for sections of society whose interests and needs are least served by off-the-shelf technologies – e.g. women, young people at risk and people with disabilities – SMART lab aim to create socially inclusive, sustainable projects and products of use to all. She and her SMARTlab team have developed numerous creative technology tools a to the challenges of teaching and learning in the 21st century, for learners of all ages and levels of ability.
Lizbeth will speak via Skype and will demo Kinect to Scratch - which uses movement for computer coding for people with autism.
Gearoid Kearney – CEO myAccessHub
myAccessHub is an Irish Startup that is making it easier for companies to build Autism Inclusive Workplaces by using Video Animation and Virtual Reality to educate their employees. Gearoid is passionate about highlighting the value people with Autism can bring to the Workplace. After graduating with a Degree in Computer Science, Gearoid joined the Enterprise Ireland New Frontiers Programme and represented the company in Boston at the Bridge to MassChallenge Competition and in Holland at the ChangeMakerXchange Programme. In 2018 myAccessHub was named the Best Social/Sustainable Startup in Ireland www.myaccesshub.io/
Brendan Morrissey – Founder iDyslexic
The Times newspaper describes Brendan Morrissey as a serial Entrepreneur. Brendan left school age 15 because of his Dyslexia & ADHD. Brendan now holds a diverse portfolio of tech investments and interests. He is founder of MobStar, Mishon, DataEgg, iDyslexic, StandUp Charity, NeuroMind, SafePal and partner at eSchools, ProTunes, Wonde, GDPR, Bare in the Woods Music & Arts Festival, QizApp & Rascal Reads. Over the past year his focus has shifted to social impact and assistive tech. He's currently working on tech to assist children and adults living with Dyslexia and ADHD, Autism, Alzheimers, Suicide Prevention and the Homeless in partnership with Microsoft and Google. Brendan is the founder of www.idyslexic.com a new social app for those living and working with Dyslexia and ADHD.
Hannah Bryson - CoderDojo Mentor and author of A Guide to making your Dojo more accessible
Hannah Bryson is a computer science student at UCD, founder of the UCD disability and inclusion awareness society, CoderDojo volunteer and disability activist. Committed to building an equal society for the one billion people in the world with a disability, she is working on a number of initiatives with multiple organisations. As a child, Hannah was diagnosed with dyslexia and dyspraxia and as an adult, autism and ADHD. As a mentor and champion at CoderDojo, Hannah found her insight into invisible disability invaluable to share with parents and young people. She used this experience to spearhead the production of a global accessibility guide which will be launched in August and previewed at this event.