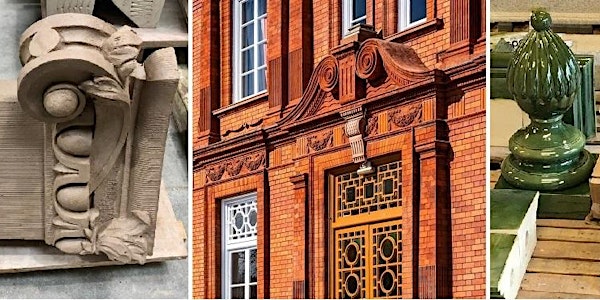 Terracotta, Faience & Brick Specials – Approaches to Repair & Conservation
This webinar will explore the properties of architectural ceramics and brick specials with Shane Nolan, conservation contractor
Refund Policy
Contact the organiser to request a refund.
About this event
Price: €60
CPD Points: 3
Format: Live webinar via Zoom
Recording: A recording of the webinar will be made available for a two-week period to all attendees and to ticket-holders who cannot attend on the day.
WEBINAR CONTENT
This half-day webinar is led by Shane Nolan, Director of Nolan's Group conservation contractors who have developed a specialism in the repair and manufacturing of bespoke brick and clay products for building conservation works.
Decorative fired clay and brick products reached their peak of production and widespread application in Irish buildings in the late 19th and early 20th centuries. They are associated with the architectural eclecticism of the Victorian age that promoted a variety of styles ranging from Tudor and Elizabethan Revival, European Renaissance to the neoclassical revival of the 1880s-1920s. Combining these moulded materials created boundless opportunities for architectural expression and structural assembly. Materials such as terracotta were durable and resistant to weathering when subjected to good maintenance. Faience, with its distinctive glazed finish, could be produced in a diverse range of styles and was regularly chosen for its low maintenance qualities for use in Irish shopfronts and commercial interiors
Today, options for repairing and replicating missing or damaged elements are often hampered by poor diagnosis, lack of knowledge of the specific properties of products, and the limited availability of replacements and manufacturing skills. Likewise, sourcing appropriate salvaged brick can be a fraught process, where sourcing bespoke specials is often a preferable option.
In this three-hour webinar, with three opportunities for questions and answers, Shane Nolan will guide attendees through the composition of terracotta, faience and fired-clay materials, the manufacturing process, and the logistics of commissioning repairs and reproduction items. Through the use of numerous site case studies, including the manufacturing of brick specials, the webinar will also showcase how complex facades and rooflines, often featuring a combination of materials, can be sensitively repaired – sometimes with new design solutions to resolve inherent flaws in the original design. The webinar will provide a unique insight into this commonly overlooked area.
PROGRAMME
10:00
Welcome & Introduction
10:05
Terracotta: Composition, Repairs and Reproduction
Q&A
11:05
Break
11:15
Faience: Glazing, Colouring, Repairs
Q&A
12:15
Break
12:20
Brick Specials: Matching mixes, colouring and firing
Q&A
13:00
Close
SPEAKER BIOGRAPHY
Shane Nolan is Director of Nolans Group Conservation & Restoration, a well-respected specialist conservation firm working in the Irish conservation field for 25 years.
The firm employs a team of highly skilled employees, offering a combination of traditional skills and innovative repair techniques to cater for the conservation and sustainability demands presented by historic buildings. Nolan's has worked on some of Ireland's largest and most significant conservation projects, ranging from McKee Barracks for the Department of Defence to one of the largest Georgian mansions in Dublin at Number 3 Henrietta Street.
Shane Nolan maintains a keen interest in the use, development and promotion of building limes, sensitive masonry repair and cleaning techniques, and serves on the board of the Building Limes Forum Ireland.