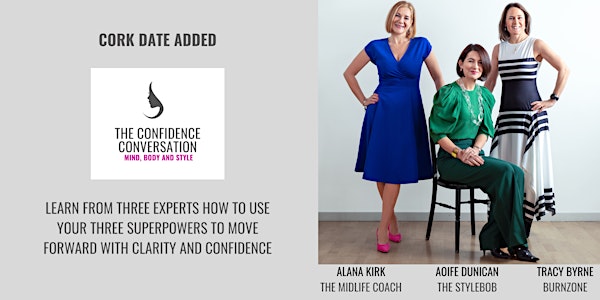 The Confidence Conversation - Cork
Learn to use your 3 superpowers - your MIND, BODY and STYLE to move forward with confidence and clarity
By The Confidence Conversation
Date and time
Sun, 26 Mar 2023 11:00 - 14:00 IST
Location
Hayfield Manor Hotel College Road T12 HT97 Cork Ireland
About this event
Come join us in the gorgeous surrounds of the Hayfield Manor for a transformative and uplifting event.
This is your complete guide to confidence all in one day - Looking confident, feeling confident and having a confident mind. Welcome to
The Confidence Conversation
Hayfield Manor, Sunday 26th of March, 11am-2pm
Tracy, Alana and Aoife are thrilled to go to Cork with 'The Confidence Conversation after their two recent sold out events.
What people said;
'What a fantastic morning with three inspiring women. I came away feeling ready to change. Thank you!'
'What an amazing morning. It was over too soon. I came away with a fountain of knowledge to move forward. The three of you worked great together'
'Wonderful vibe and energy in the room. Picked up my tool kit for life'
The last few years have been tough. Twists and turns are all part of life but now it's time to move forward, embrace spring 2023 and think about YOU. To take any major step in life, you need to have the confidence and belief in yourself to actually do it. Gaining confidence is never just by doing one thing. It can come from wearing your happy colour, doing your favourite exercise, or simply from feeling empowered and motivated.
We are part of this generation of women writing our own rules on how to live healthy, vibrant, and exciting lives and we want to share our knowledge with you on how to look and feel confident in your 30's 40's, 50's, 60's and beyond.
Welcome to The Confidence Conversation
3 experts with 1 mission to give you the confidence to chase your goals, unlock doors and strive forward:
• Confidence in how you think and act by Alana Kirk, MidLife and Leadership Coach and Author of Midlife, Redefined.
• Confidence in your clothes and how you express yourself by Aoife Dunican, The Stylebob, Image Consultant, Speaker and Personal Stylist.
• Confidence in how you move and feel by Tracy Byrne of Burnzone, Personal Trainer and Health and Fitness Coach.
Can you imagine how powerful and confident you could feel if you could harness all 3 superpowers - your MIND, BODY and STYLE to help you reclaim your mojo and strive forward?
There will be a gorgeous display of food to eat from smoothie shots to pastries, fruit pots and yoghurts along with a take-home booklet with practical tools, tips and tactics to help you feel more confident in how you look, feel and think.
The Confidence Conversation will be a morning for you to think solely about you, where you are going and how you can get there. You will leave with a manifesto on how to look, feel, and live with confidence.
The Speakers
Aoife Dunican, The Stylebob
Aoife is an internationally accredited image consultant, speaker and personal stylist.
Aoife will talk you through how to choose clothes that represent who you really are and where you are going. Aoife will discuss why clothes matter, the power of colour, dressing for your body shape, building a capsule wardrobe and how to shop.
"Everyone has the right and power to feel fabulous. I want you to come away knowing how to nail a look that should make you feel unstoppable"
Tracy Byrne, Burnzone
Tracy is a personal trainer, and health and fitness coach.
Tracy will highlight the Top 10 benefits of taking charge of your health and fitness with an emphasis on positive impacts on longevity, disease prevention, protecting bone density and muscle mass, and weight management & body confidence.
"I love sharing my enthusiasm for health and fitness and teaching my clients how to train effectively to ensure they give themselves every chance to live long and healthy lives."
Alana Kirk, The Midlife Coach
Alana is a life and leadership coach, speaker and best-selling author of Midlife, redefined: Better, Bolder, Brighter. Alana will show you how to explore and express who you are, and listen to what you want. She will show you how to develop a dynamic midlife mindset so that you will live a life you love with intent, curiosity and courage.
"It's easy to become so many things to so many people we forget who we are to ourselves. I want to empower you to forget about ageing gracefully - and learn how to age powerfully! This is your time. Time to put you at the top of the to-do list and start putting the 'life' into your midlife."
Cost: 82.50 euro