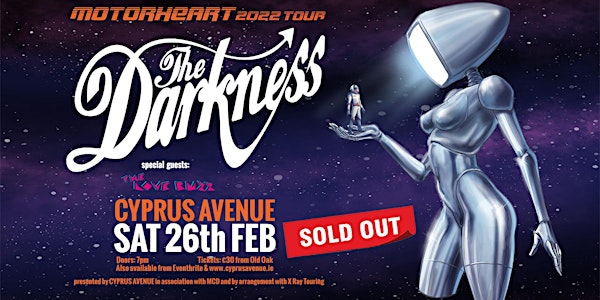 When and where
Location
Cyprus Avenue Caroline Street Cork Ireland
About this event
The Darkness have announced plans to bring their Motorheart tour to Cyprus Avenue in Feb 2022.The band say "The time has come, the walrus said… to put your fookin pants on your head and rock like Satan is eating your private parts with a pointy fork! Yes, we, The Darkness, are the fuck back on tour, praise Satan's better half… come and party with us like it's the last orders at the last chance saloon.The Darkness' new album 'Motorheart' is set for release on 19th November.
From the sex boogie of 'You Don't Have To Be Crazy About Me' to the going home riffola of 'Eastbound', from the E.T. boffing 'It's Love Jim' to the sensitive as a falling boulder 'Jussy's Girl', from the does-exactly-what-it-says-on-the-tin 'Love Thang' to the furiously hard – in every sense of the word – sex robot-tapping title cut, it is yet another masterpiece. Drop the needle anywhere to be instantly transported from this moaning and weeping vale of tears to Elysian fields of rock where all hands are raised, the drinks – just as in the Club Tropicana of yore – are free, and everyone wears a pleasingly salacious grin.And I haven't even mentioned the already immortal 'The Power And Glory Of Love', which shall surely take its place on the inevitable Darkness Greatest Hits, a collection that hasn't, as yet, been released for fear it would hit like a meteor, sending humanity spinning helplessly into space from our flat earth, like our dinosaurial antecedents.There's sufficient "walnut in pantaloon" style innuendo – is 'So Long' a mournful farewell or another far-from-idle boast? – to give the ghost of Kenneth Williams a conniption, and do you think Bob Dylan, at his most 'far-out', would ever have had the balls to rhyme 'onyx' with 'tectonics'? I think no.Does it rock? Have you not been paying attention? Is the sun hot? Has your partner's touch grown cold? Go and stand at the back! The Darkness are the Orwellian boot stamping on the flaccid face of limp rock, forever!The mighty 'Ness have never been scared of a cliché, in fact they've made a career out of embracing such tropes and motifs, so let me employ one here; MotorHeart is indeed their finest recorded work since Permission To Land, and yes, I did say that about the last one, and I shall most likely say it about the next one too! Would you like to step outside and 'discuss' it?
Nothin's – short of another global toilet flush – Gonna Stop Them.