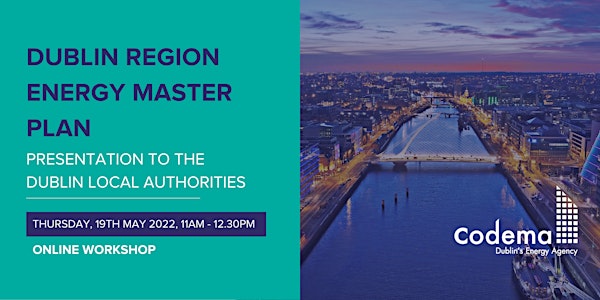 The Dublin Region Energy Master Plan - A Presentation to Council Staff
This presentation will guide Council staff on the greatest potential to reduce emissions related to heat, electricity & transport in Dublin.
About this event
****Please note that this is a private presentation for local authority staff only. If you wish to attend our public launch on 1st June, you can register at https://bit.ly/3Lj9z7Z
Dublin's energy agency Codema is delighted to invite you to an online workshop to present the results of the Dublin Region Energy Master Plan to Council staff across the region.
The Dublin Region Energy Master Plan provides realistic, evidence-based pathways for the Dublin Region to achieve its carbon emission reduction targets to 2030 and 2050. It is the result of over two years worth of research by Codema's energy planning team to identify the greatest potential to reduce emissions related to heat, electricity, transport and buildings in Dublin.
For the first time in Ireland, the Dublin Region Energy Master Plan uses spatially-driven energy scenario modelling to identify the cost-optimal solution that considers the socio-economic impact at a local level in Dublin, based on the specific energy "characteristics" or profile of a particular area.
Put very simply, this means that the master plan has looked at 'what should go where' for every part of Dublin, based on the type of area it is and the technologies that are best suited to reducing energy-related emissions within that area.
The master plan also brings together national government plans and policies to show the impact they will have on Dublin.
Why Should I Attend?
At a local level, local authorities in Ireland have to meet a number of legal climate action obligations and targets. The Dublin Region Energy Master Plan can help support local authorities to meet these requirements in areas such as:
Preparation of County/City Development Plans
Identification of Strategic Energy Zones and Decarbonising Zone assessments
Preparation of climate mitigation plans and EU Covenant of Mayors SECAPs
Roll out of low-carbon infrastructure
Carbon and energy assessment of planning applications
There will also be an indepth Q&A session after the presentation where you can put any of your questions to our energy planning team and discuss the implications and potential for your local authority.
While we encourage you to share this link with your colleagues, we kindly request that this link is not shared to other external parties, as this presentation is tailored for local authority staff.