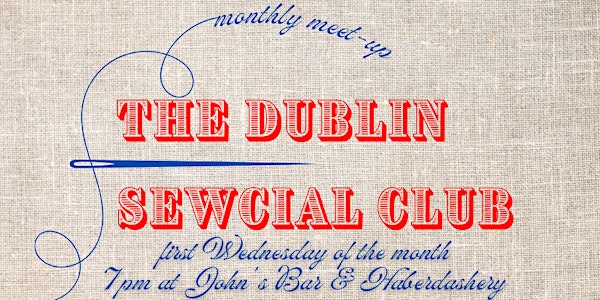 Multiple dates
The Dublin Sewcial Club
monthly stitch n bitch
Date and time
Wed, 7 Dec 2022 19:00 - Wed, 1 Nov 2023 22:00 GMT
Location
John's Bar & Haberdashery 61 Thomas Street Dublin 8 Ireland
About this event
Dublin Sewcial Club meet-ups are free events for anyone interested in meeting other stitchers. All skill levels and techniques welcome (doesn't have to be embroidery). We started this group to try to meet more stitchers in person, rather than just being friends on social media! We'll aim to meet up regularly (once a month) to stitch and bitch at John's Bar & Haberdashery on Thomas Street.
Bring along some stitching to do while we drink and chat and share our tips, advice and ideas with each other!
Please note: while you are free to share tips and advice, this is not a class or workshop
About the organiser
Alice is a passionate embroiderer inspired by Ireland. Alice began stitching in school at the age of 15, but it wasn't until she heard about the Degree Course at the Royal School of Needlework, London that she thought she might make a career out of it. Here, she learned a wide range of embroidery techniques and worked on a number of high profile projects such as the Nicholas Oakwell for Great Britain campaign and the HBO Game of Thrones Hardhome Embroidery.
After graduating from the RSN in 2017, Alice moved back home to Dublin, Ireland and began work on a series of pieces inspired by Irish Folklore, Language, Landscape and History. So far, Alice has completed The Wildflowers series, Celtic Knot series, and Ogham series. These works have also inspired some personalised and commissioned pieces.