Description
The Flow State is a podcast about poetry and creativity.
Interviews, processes, prompts, roundtable chats and craic.
Presented by Colm Keegan and recorded at Tallaght Library in association with HeadStuff.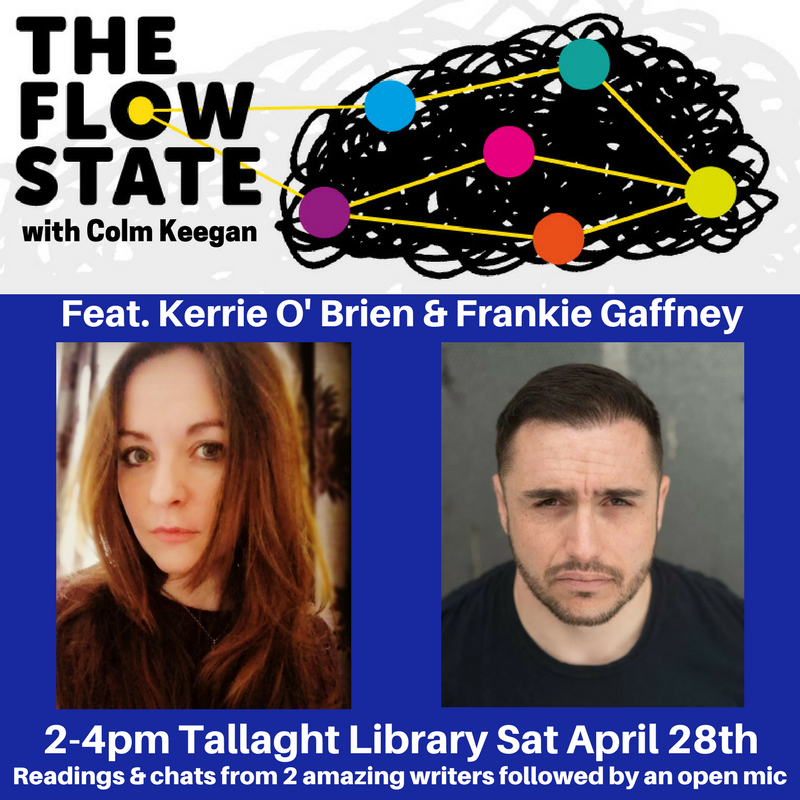 Our April show will feature Kerrie O' Brien and Frankie Gaffney.
The show will take the form of an interview and reading from Kerrie, an interview and reading from Frankie, a short prompt-led open-mic slot, followed by a round-table discussion between Colm, Kerrie and Frankie.
The podcast will be recorded with a live audience in Tallaght Library 2 - 4pm Sat 28th April.

If you'd like to read/perform at the open mic slot on the day contact theflowstatepodcast@gmail.com

This is a free event. Open to all. Book now as places are limited.
About the Guests:
Kerrie O'Brien is a poet from Dublin. Her debut collection of poetry 'Illuminate' was published by Salmon Poetry in October 2016 and was made possible by a Literature Bursary from the Arts Council of Ireland. She was the editor of 'Looking at the Stars', a limited edition anthology of Irish writing which raised over €21,000 for homelessness in Dublin. She holds a BA in History of Art and Classics from Trinity College Dublin.
Frankie Gaffney is a novelist and linguist from Dublin. He's currently trying to kick a damaging addiction to journalism.