The Role of Imagination and Compassion in Frontline Work – a two-hour reflective workshop with Dr Colm O' Connor
About this event
The Heart of Frontline Practice alliance - Ag Eisteacht, SHEP and Dr Nicola' O Sullivan - warmly invites you to join Dr Colm O' Connor in a facilitated 2-hour workshop via Zoom on' The role of imagination and compassion in frontline work' on Tuesday 5th October from 11am to 1pm.
The event will be hosted by Dr Maeve Hurley, founder and CEO of Ag Eisteacht, one of the three collaborators behind the Heart of Frontline Practice alliance.
Dr Colm O' Connor is a Clinical Psychologist & Psychotherapist and a Family Therapist. He has presented countless workshops and seminars on a variety of topics related to marital and couple therapy, family therapy, domestic abuse and violence, happiness and well-being, human imagination and professional self-care.
He is the former Clinical Director of the Cork Marriage/Family Counselling and is now in full-time private practice as a marriage, family and child therapist. He is also the author of three books including 'The courage to be happy.'
Dr O' Connor's inspiring presentation on Imagination and Self-Compassion in Practice at our Reconnecting with the Heart of Frontline Practice national seminar 2020 was warmly received by all attendees and we are delighted that he can join us again this year.
Given the enormous pressure on systems and people, we feel that it is essential to create these regular 'touch points' so that we can take time out to pause, reconnect and think about how we are feeling.
Also, with the ongoing need to connect virtually, which brings with it uncertainty and makes connecting more challenging, we are creating these predictable touch points to offer opportunities to engage with each other as a Heart of Frontline Practice community that feels safe - and where we can be open and curious.
Our vision is to create an on-going community of multidisciplinary reflective practice so that we might all feel more sustained and supported in our work ahead.
We hope that you can take two hours out of your daily routine work to join us for this nourishing and inspiring workshop on Tuesday 5th October from 11am – 1pm with Dr Colm O' Connor who will share his wonderful wisdom and insight.
Places are limited so please book early to avoid disappointment.
Fees:
The fee for this 2-hour workshop is €30
Booking deadline September 28th, 2021
Cancellation Policy:
Refunds cannot be issued for cancellations received less than 2 weeks before the workshop. However, under exceptional circumstances, this can be reviewed by the organisers.
Contact:
If you have any further questions about this event please contact Sabrina by phone 021 4536556 or by email sabrina@ageisteacht.com
SHEP:
The Social and Health Education Project CLG (SHEP)is a not-for-profit, community-based training and development organisation established with a commitment to personal and social transformation. Our key areas of work include: a unique training programme based on experiential group work approaches; advocacy; low-cost counselling; supports for community groups and organisations, earth awareness work and international partnership.
www.socialandhealth.com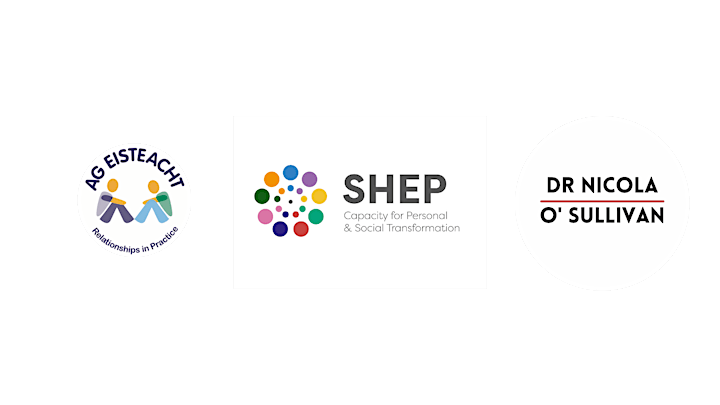 Organiser of The Heart of Frontline Practice presents: Reflective Space
Ag Eisteacht provides accredited, evaluated, evidence based training for those working with individuals, families, communities and organisations. Our focus is on early intervention and opportunities to support and empower individuals, thus enhancing relational, family and child well-being. 
For further information & booking links, please see below: 
Upcoming Courses:
Online| August 25th, September 9th & 10th
Dublin |September 28th, October 12th & 13th
Cork | November 10th, 24th & 25th
The Heart of Frontline Practice: Reflective Space | October 5th
Reconnecting with the Heart of Frontline Practice Seminar | May 24th, 2022
ABLE Training Cancellation & Refund Policy for OPEN COURSES:
Should a participant cancel their place by phone or email;
More than 3 weeks prior to the start of a course a refund of €150 will be provided. 
Between two and three weeks prior to the course, a refund of €100 will be provided.
Between one and two weeks prior to the course, a refund of €50 will be provided.



Unfortunately, refunds for cancellations received less that one week prior to the commencement of the course cannot be provided. Certain refunds and transfers to other course dates​ can be considered under exceptional circumstances and at the discretion of Ag Eisteacht.