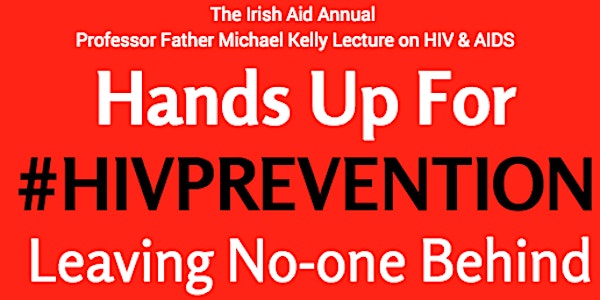 The Irish Aid Annual Prof. Father Michael Kelly Lecture on HIV and AIDS
By Irish Forum for Global Health and Irish Aid
When and where
Date and time
Mon, 5 Dec 2016 17:00 - 19:30 GMT
Location
Royal College of Physicians of Ireland 6 Kildare Street Dublin Ireland
Description
Since 2006, Irish Aid has honoured Professor Father Michael Kelly's achievements,, through the Annual Professor Father Michael Kelly Lecture on HIV and AIDS, often timed to coincide with World AIDS Day (1st December).
This year's lecture will take place on Monday 5th December, and will focus on the theme of "Hands up for #HIVPrevention: Leaving no-one behind". The event will include a pre-recorded video introduction from Father Michael himself followed by two guest speakers: Shaun Mellors and Robbie Lawlor, followed by a reception.
ABOUT THIS YEAR'S GUEST SPEAKERS
Shaun Mellors is a well known international activist, co-Founder of the Global Network of People Living with HIV/AIDS (GNP+), and former Board Member for the Communities Delegation to the Global Fund to Fight AIDS, TB and Malaria. Originally from South Africa, Shaun has been openly living with HIV for over thirty years, and is a passionate human rights advocate. He currently holds the role of Director of Knowledge & Influence at the International HIV/AIDS Alliance.
Robbie Lawlor is an Irish sexual health activist openly living with HIV since 2012. A graduate of the MA in Sexuality Studies at Dublin City University, Robbie has dedicated his life to advocating to other young people about HIV and sexual health. He set up Ireland's first one-on-one peer support network in Ireland's busiest sexual health clinic, and is involved with Youth Stop AIDS, Stop AIDS, and Restless Development. Robbie is especially passionate about breaking the stigma surrounding HIV both nationally and globally.
ABOUT FATHER MICHAEL
Professor Father Michael J Kelly SJ was born in Tullamore, Co. Offaly, Ireland, in 1929. He studied at University College Dublin and was awarded a B.A. in Maths and Mathematical Physics in 1952, both with first class honours. He went on to receive a licentiate in philosophy in 1955. He moved to Zambia and has lived and worked there for over 50 years, becoming a Zambian citizen. He worked for many years as headmaster of Canislius College in Chiseki in Zambia.
Father Michael completed his PhD studies in the area of child and educational psychology in 1974 and subsequently became a senior lecturer and Dean of the School of Education in the University of Zambia (UNZA), in 1975. He served as pro-vice chancellor and deputy vice chancellor and became professor in 1989.
He is a renowned speaker and advocate on HIV and AIDS, and has worked tirelessly to educate and promote safe behaviour among youth and those most at risk in Zambia, throughout sub-Saharan Africa, and much further afield. He is also active in other policy areas, such as strategies for HIV prevention, and human rights. A prolific researcher and writer, Father Michael has authored 15 books, and many original research articles. Throughout his long and distinguished career, Father Michael has worked as a consultant to organisations such as the World Bank, UNESCO, UNICEF, the FAO, UNAIDS, Oxfam, Irish Aid, and many more.
For more information about Father Michael, please visit http://www.fathermichaelkellyzambia.org