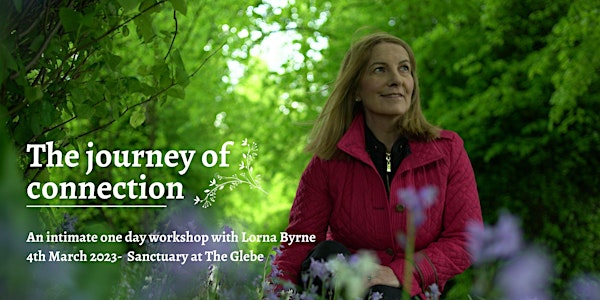 The journey of connection – an intimate workshop with Lorna Byrne
Join Lorna Byrne for her very first one day workshop at Sanctuary at The Glebe dedicated to allow our spiritual side to come forward.
By Lorna Byrne Children's Foundation
When and where
Date and time
Sat, 4 Mar 2023 10:00 - 16:00 GMT
Location
Sanctuary at The Glebe Thomastown R95 D1R8 Thomastown Ireland
Refund Policy
Refunds up to 30 days before event
About this event
To grow spiritually each of us need to allow our spiritual side to come forward, to accept that we are not just human beings but spiritual beings too.
Join Lorna Byrne for a one day workshop at Sanctuary at The Glebe. Unlike other events with Lorna this is a very intimate workshop limited to 35 participants, an opportunity to take time for yourself and allow your unique spiritual connection to come forward in a smaller group setting.
For over a decade, international spiritual teacher Lorna Byrne has been helping countless people around the world of all beliefs and none, to connect to their spiritual side and unlock the love that that exists inside of them. According to Lorna when we allow this connection to our soul and our relationship with our guardian angel to deepen, we discover more of who we really are, an incredible spiritual being.
In this one day workshop Lorna will help you
• Reconnect and understand more about your own unique, spiritual side
• Be more conscious of your spiritual side in your everyday life and put it into practice
• Hear the guidance of your guardian angel who is teaching you all of the time
• See yourself as unique, perfect and beautiful in every way
• Grow a stronger connection to yourself, others and nature
Join Lorna for this beautiful day of learning in the company of other curious and open-minded people from all backgrounds and beliefs. Based at Sanctuary at The Glebe in Thomastown, Kilkenny , the workshop will include teachings and meditation from Lorna, questions and answers, tailored exercises and time for reflection.
This is a special event in aid of the Lorna Byrne Children's Foundation. The Lorna Byrne Children's Foundation believes that all children have a right to be happy, healthy and safe. They support amazing initiatives to help marginalised and vulnerable children and young people in Ireland and around the world.
Lorna is also offering a limited number of scholarships for this workshop for those who are experiencing financial hardship. If you would like to apply for one of the scholarships please contact foundation@lornabyrne.com for details.
Alternatively, if you are in a position where you have a little more to share, please do consider paying it forward and purchasing a ticket for someone in need. Please let us know at foundation@lornabyrne.com if you are considering this and we can arrange for your kind gesture to get a good home.
About the organiser
The Lorna Byrne Children's Foundation believes all children, no matter what their background deserve to have a happy, safe childhood and a bright future.  We fund amazing initiatives and projects in Ireland and across the globe, run by charities and grassroots organisations that support children in extremely vulnerable and marginalised situations.
These initiatives are changing the lives of children around the world for the better.  Children who right now are suffering due to war, devastation, poverty or illness.
For more information on the Lorna Byrne Children's Foundation see www.foundation.lornabyrne.com