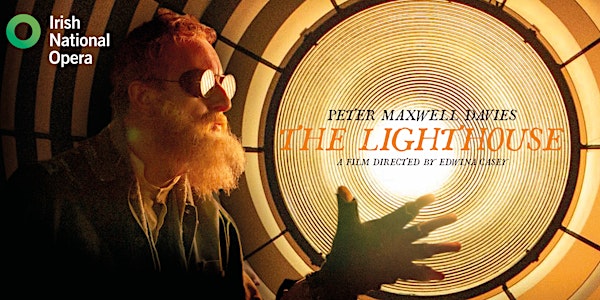 The Lighthouse
World premiere of new film version directed by Edwina Casey presented in outdoor screenings across Ireland.
When and where
Location
Hook Lighthouse Hook Head Churchtown Ireland
About this event
A Scottish lighthouse goes dark. A visiting supply ship finds the building in order. But the keepers have vanished without trace. Three singers in multiple roles explore the psychological state of the fractious men, relive an official investigation and project a supernatural explanation. The composer, who based the structure of the opera on the Tower of the Tarot, leaves no simple answers. Based on an actual event in December 1900.
Sung in English with English subtitles
Running time 70 minutes
Seating and headsets will be supplied and capacity is limited to 50. Pre-booking necessary and all performances are weather permitting.
CAST
Officer 1/Sandy Brenton Ryan
Officer 2/Blazes Ben McAteer
Officer 3/Arthur/Voice of the Cards John Molloy
Irish National Opera Orchestra
CREATIVE TEAM
Conductor Nil Venditti
Director Edwina Casey
Set & Costume Designer Annemarie Woods
Lighting Designer Sinéad Wallace
Assistant Conductor Elaine Kelly
Répétiteur David Leigh
Filmed Production Hail Mary Pictures
Audio Production Ergodos
Irish National Opera Orchestra
Filmed at Draíocht, Blanchardstown
Audio recorded at Windmill Lane Studios
FAQ
How do I book tickets?
All tickets must be booked in advance, there will not be any box office operating on the night of the performance. Tickets can be booked until 5pm on the day of the performance.
To comply with current Covid government guidelines, you will be able to book tickets in maximum group sizes of 6.
Will there be seating?
Yes, we will provide seating for all outdoor performances. We will endeavour to seat households together in pods, up to a maximum of 6.
Are all the screenings outdoor?
Yes, all the screenings will be at outdoor locations across Ireland. The Irish summer can be very unpredictable, and the screenings will begin late at 10.45pm so we recommend wrapping up warm and having waterproofs at the ready for all eventualities.
The screening will last 70 minutes and there will be no interval.
How will the audio work?
The soundtrack will broadcast through a radio frequency to headphones. We will provide wireless headphones which will be sanitised after every use.
Will bad weather affect the screenings?
If the weather is particularly wet and windy we will be forced to cancel the screening. In these circumstances we will update our website, social media and endeavour to contact all ticket holders.
What happens if a screening is cancelled?
In the event that we are forced to cancel a screening due to inclement weather or a change in government guidelines regarding outdoor gatherings, there will be the option of viewing an exclusive stream of the film online on 19 July. We will be in touch with ticket-holders with further details on accessing the stream. Ticket-holders will also be entitled to a full refund should they prefer not to view the stream.
What is accessibility like?
All screenings will take place in outdoor sites so accessibility will vary. If you are a wheelchair user or have mobility issues please contact us in advance at info@irishnationalopera.ie and we will answer any specific queries you have and try to accommodate your needs on the night of the screening.
If you have any other questions about the screenings please contact us via e-mail on info@irishnationalopera.ie
Supported by Wexford Arts Office