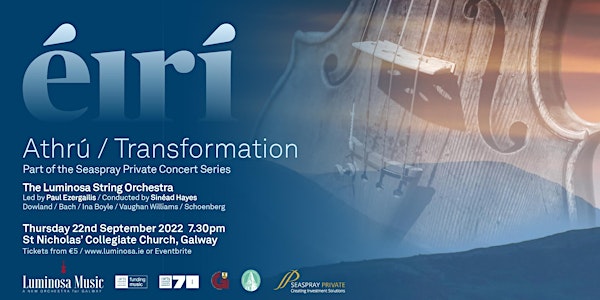 The Luminosa String Orchestra - Éirí II - Athrú
The Luminosa String Orchestra in Éirī II - Athrú
When and where
Location
Saint Nicholas' Collegiate Church Lombard Street H91 PY20 Galway Ireland
About this event
**CANDLELIT CONCERT**
Prepare to be delighted and charmed with this beautiful programme of music inspired by the personal transformations we have all undergone. After journeying through covid times, through tragic times of loss and transfiguration, the music we have selected reflects on transformation both internally within pieces of music and on a greater scale, between teachers and students, between a composer's young self and the ultimate realisation of himself; and between centuries during which many pandemics, wars, political upheavals and challenges abounded.
We begin with John Dowland's Lachrimae Verae (True Tears) the last of the Seven Teares, published in 1604.
Then joyfully on to J.S.Bach with the seminal Brandenburg Concerto No. 3 in G Major BWV 1048.
We then fast forward to Schoenberg in an early work entitled Nocturne for Harp and strings
We then explore the work of Vaughan Williams and his Irish student Ina Boyle - with her recently posthumously published work Psalm for Cello and Strings - (with thanks to the Ina Boyle Society and Boyle Family) - and her teacher Ralph Vaughan Williams and his gloriously lush pastoral Five Variants of Dives and Lazarus.
We are delighted to be joined by Harpist Clara Booth for this beautiful candlelit concert in the majestic surrounding of St Nicholas' Collegiate Church, Galway.
Keyboard continuo by Ray O'Donnell
The Luminosa String Orchestra is Led by Paul Ezergailis. Our Principal Guest Conductor is Sinead Hayes.