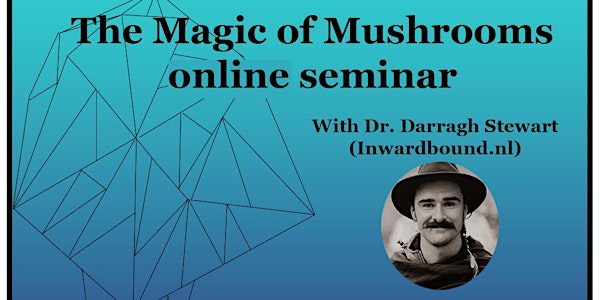 The Magic of Mushrooms Live online seminar
In this seminar ill be helping to educate you on all things magic mushroom related with time for Q&A at the end.
About this event
There is a huge resurgence in people using psychedelics and plant medicine for personal development, inner healing and spiritual breakthroughs. In this talk I will be demystifying everything about for you. I'll be taking you on a journey to educate you on all things psy and magic mushrooms with time for Q&A at the end
Come join and don't miss out on all the practical information you need to know about our Europe's indigenous plant medicine.
I'll be going through:
The current psychedelic science
How to consume in a safe way and harm reduction measures.
How to grow mushrooms.
Where to find mushrooms in the wild and Identification.
Micro-dosing and Macro-dosing.
How to use mushrooms for spiritual and personal development.
Psychedelic retreats.
Legality and things to consider.
After the talk there will be time for Q&A through the chat or verbally. We will also leave some room for discussion.
The group will be small so book now to avoid disappointment.
The seminar will be hosted through the free Zoom app.
Please arrive at 6.55pm GMT for 7pm start.
Dr. Darragh Stewart
Is a trained Scientist with over 10 years studying science. He graduated with his Ph.D. in Plant molecular Genetics and is deeply involved in reducing stigma around psychedelic substances for personal healing, professional breakthroughs and spiritual practice. He is co-founder of Inwardbound psychedelic retreat in the Netherlands and works with Men through his mens's circles, workshops and events. He is interested in weaving science, spirituality and shamanism.
Instagram @darstewy
Testimonials from previous 'The magic of Mushrooms talks'
''Loved Darragh's talk! Very informative and eye-opening on the science, usage, safety and identification of magic mushrooms. It's like a one-stop shop for everything you need to start looking for mushrooms. Darragh is very friendly and funny and his enthusiasm really gets across. Highly recommended. Thank you! ''
''This was a thoroughly enjoyable course which covered a broad range of topics and is a perfect introductory talk for those wanting to learn more about the history and folklore surrounding sacred mushrooms, their use in modern psychiatry and medicine, and harm reduction through correct identification of mushrooms. Recommended! Thanks again Darragh. ''
''Darragh's talk was really well thought out and informative. He was well prepared and it had a lovely relaxed atmosphere. It was like having a friendly chat with someone who was really happy to share their knowledge! A lovely evening well spent! ''
''This talk came from several different angles, the historical, the chemical, the psychological and the practical perspective. It was really well informed on all fronts, and I thoroughly enjoyed it. It was the only 2-hour zoom session that I have enjoyed since lockdown began! ''
''A fantastic articulate talk on Magic Mushrooms. Their place in today's society and harm reduction as a first port of call. Darragh is well versed on the topic and I appreciated his passion and knowledge on the subject matter. ''
*Always check with your local doctor before ingesting any substance, make sure it's pure/correctly identified and check your countries drug laws when purchasing or possessing any substance.
Tickets are non-refundable but can be used against another seminar.