About this Event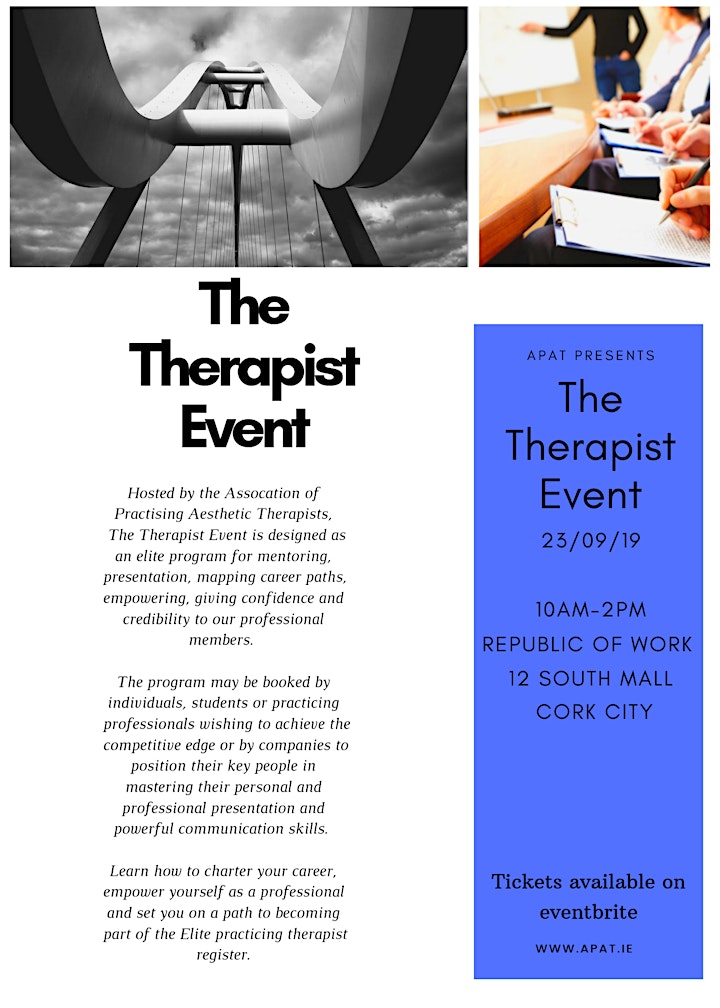 This September sees the first open forum event hosted by (A.P.A.T) The Association of Practising Aesthetic Therapists. The first of the nationwide events will take place September 23rd at 10am- 2pm in Republic of Work, 12 South Mall, Cork City. This event is designed as the elite program for mentoring, presentation, mapping career paths, empowering, giving confidence and credibility to our professional members. The program may be booked by individuals, students or practicing professionals wishing to achieve the competitive edge or by companies to position their key people in mastering their personal and professional presentation and powerful communication skills.
It will show you how to charter your career, empower you as a professional and set you on a path to becoming part of the Elite practicing therapist register.
Who is A.P.A.T?
A.P.A.T transformational training and coaching authority for Beauty & Spa Professionals with over 50 years of the combined business, practical and Aesthetic experience. We train and mentor the industries elite in Professional Standards, Business Etiquette, Communication and Leadership Excellence. We are the gold standard of Aesthetic professional development. We welcome both aspiring & qualified therapists to participate in A.P.A.T exclusive Finishing School created for the leaders of today and tomorrow.
What does A.P.A.T offer?
A.P.A.T provides continuous professional development to Beauty, Spa & Wellness practitioners. We will do this by creating professional standards in the workplace and through professional development training in service, business development, customer care, and ethical standards.
A.P.A.T is building a future to secure professional standards and development of the global Aesthetics Industry.
Programs for Students and practicing Therapists include:
Professional Development & Mentoring
Career Chartering
Engagement Training
Consultation Training
Ethical Practise
Safety Standards
Professional Wellness
Retail Training
We work with the operating business to drive the team to a higher standard of delivery and operational success. We work with ambitious therapists driven to succeed to be leaders.
Programs for Business Owners and Managers include:
Operational Management Training
Mystery Shopper Audits
Specialist Customer Journey Design and Training