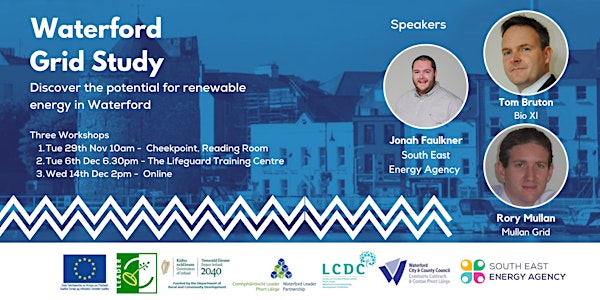 The Waterford Grid Study Workshops
Discover the potential for renewable energy in Waterford. There will be 3 events in total, two of which will be in person and one online.
When and where
Location
Waterford National Surf & Lifeguard Training Centre X91PY24 Tramore Tramore Ireland
About this event
We are delighted to announce that we are holding three workshops in the Waterford region which are related to the Waterford Grid Study.
These workshops will:
Outline the findings of the Waterford Grid Study carried out into grid availability in county Waterford
Provide guidance for community groups interested in developing a renewable energy project in the local community
Provide greater detail on the steps and barriers you should look out for when developing a community led solar or wind projects
Dates
1. Tue 29th November 10am Workshop - The Reading Room Cheekpoint Waterford
2. Tue 6th December 6.30pm Workshop - The new Lifeguard Training Centre in Tramore - X91 PY24
3. Wed 14th December 2pm Workshop - Online
Agenda
Welcome and Intro
Rationale for Community-led Renewables Development & Working with Waterford Communities
Policy context
RESS updates and SEAI Community Enabling Framework
What is Citizen Energy Community and Renewable Energy Community?
Waterford Area Grid access
Policy on Grid for Community Projects
Overview of Waterford Network
Results of Grid Study
Recommended steps for Community
Development Roadmap
Typical Development Steps, Timeline and Expenditure for Wind and Solar projects
Feasibility Screening
Planning Studies and Planning Process
Community Legal Entity Options
Geographical Link and Remit
Q&A Discussions
Event Close
What's involved?
In this event, we will share the findings of the study they carried out into grid availability in county Waterford. In order to develop a renewable energy project, there must be capacity in the electricity grid to take the power you produce. A study was recently carried out to determine where the greatest opportunity for community renewable energy may be. Mullan Grid Consulting is an electrical engineering consultancy specialising in the grid connection and electrical design of renewable generators. Mullan Grid compiled the Grid Study that will be discussed.
The second part of the workshop will look at the various steps and considerations a community must take in the development of a renewable energy project. In this session, BioXL will speak on key development tasks in renewable energy projects. This session will be presented by Tom Bruton of BioXl, an energy consultancy with expertise in renewable energy.
*Places will be limited.
*Prior registration is required in order to attend the event, to register for the event, visit Eventbrite.ie
Terms and Conditions. The event organisers reserve the right to refuse admittance to the venue or to remove any person from the venue if they fail to obey the instructions of the organisers or use any unacceptable behaviour which is likely to cause damage, nuisance or injury.