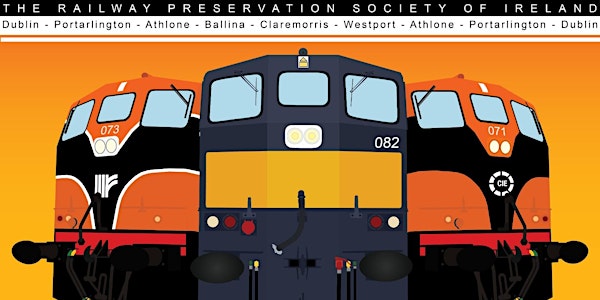 "The Western Liner" - Diesel Railtour
Heritage Diesel Railtour from Dublin Connolly-Athlone-Ballina-Claremorris-Westport- Athlone-Dublin Connolly
When and where
Location
Connolly Station 1 Amiens Street 1 Dublin Ireland
About this event
Saturday 8th October 2022
The Railway Preservation Society of Ireland is delighted to announce "The Western Liner" diesel railtour hauled by Iarnród Éireann 071 Class GM locomotives throughout.
It is scheduled to depart from Dublin (Connolly) at 08:10. We will head West from the capital departing on this occasion from Dublin Connolly station via Phoenix Park Tunnel to the Dublin to Cork mainline. The tour will take the down fast line and make a call at Portarlington (09:08) to pick up passengers. The tour will then take the Athlone branch travelling via Tullamore and onto Athlone where we will call to change drivers and pick up passengers (10:30)
The tour will then cross the River Shannon and into the West, taking the Westport line travelling through County Roscommon and into County Mayo. We will then turn off again at Manulla Junction to take the Ballina branch line to the picturesque North Mayo town of Ballina situated on the River Moy. Arrival in Ballina is scheduled for 12:33. Here you will have 2 hours to visit Ballina and enjoy the many cafés, bars and restaurants in the town or take a stroll along the River Moy.
Our departure from Ballina is scheduled for 14:35 as we retrace our steps back towards Manulla Junction and then to Claremorris. We have requested a change of 071 locomotive in Ballina if one is available on the Liner or Timber train. At Claremorris, the locomotive will run around the train and then head West again, this time continuing straight on at Munulla Junction and head for the end of the line at Westport. Our visit to Westport will be a quick one (16:37/16:50), with time to run around the locomotive and then depart promptly back towards Dublin setting down at Athlone (18:33) and Portarlington (20:13) with an arrival back into Dublin Connolly scheduled for 21:20.
As with previous diesel railtours this one is sure to very popular and will sell out quickly so don't delay and get your booking in as soon as possible.
The train will be made up of our Cravens coaching stock complete with usual facilities of snack car serving a variety of hot and cold items throughout the day alongside our renowned bar car with draught and bottled beverages available all day. We now accept debit / credit cards on board as well as cash payments.
Route:
DUBLIN CONNOLLY - PORTARLINGTON - ATHLONE - ROSCOMMON - BALLYHAUNIS - BALLINA (REVERSE) - CLAREMORRIS (REVERSE) - WESTPORT (REVERSE) - BALLYHAUNIS - ATHLONE - PORTALINGTON - DUBLIN CONNOLLY.
Requested haulage - IÉ 071 Class locomotive hauling the RPSI Cravens carriages.
N.B. IMPORTANT INFORMATION RE: ONLINE TICKETS
Tickets are NON-REFUNDABLE once purchased.
If travelling as part of a group - you MUST make one booking to be seated together. Seating requests cannot be made after.
You will receive your tickets by email as soon as your booking goes through. These are you tickets which you must print off or have QR code available for inspection on the day.
Seating allocations will be emailed, no later than 2 days before departure. Please check your emails.
Children aged 2 and under can travel free of charge on their parent's lap.
Child Tickets are valid for 3 - 15 year old's inclusive.
We have seats for sale in the carriage opposite the guards van and in the bar carriage for the day. Please note that these are ONLY available as adult tickets.