Think:Tank

Wednesday, 6 December 2017 from 15:30 to 20:00 (GMT)
Event Details
How do we inspire change that really makes a difference?
THINK:TANK is a hackathon that brings bright minds together for social good. It is organised by SCI:COM, a unique event that takes place the following day and welcomes great minds from the arena of science communication for an exciting day of talks, panel discussions, and networking.
Design Thinking is a process that helps people understand and develop creative ways to solve a specific issue.
Join a team of scientists, communicators, designers and innovators at Science Gallery Dublin in a Design Thinking challenge to address three key issues in health and science communication. Registration is free for anyone who works in the area of STEM or STEM communication, and is intended to introduce you to a process that will help you radically change the way you approach problems in the future.
THINK:TANK offers a great opportunity to work with a mixed group of STEM professionals, designers, engineers and media professionals. Learn new skills and expand your STEM network while trying to tackle real-world problems. The process will be led by Design Thinking practitioners Jess Hayden from Elan Vital, Brendan Allen from Food 360, and Lucy McKenna from Full Aeon.
Watch the video from last year's THINK:TANK: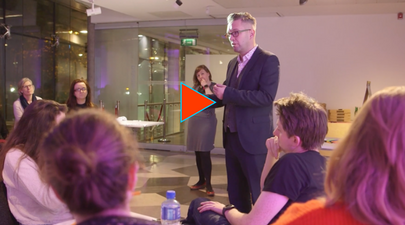 The workshop will be run with an open source spirit. 
The purpose is to demonstrate the Design Thinking process using real world examples, rather than solve specific problems for the organisations contributing. Teams and individuals are encouraged to continue to develop their ideas after the event.
The problems: 
At THINK:TANK, we'll be looking at three problems that can benefit from a collaborative and creative problem-solving process. To make sure the solutions we generate can be tried out, we've teamed up with three partners who can have unique opportunities to effect change.
Many business leaders and decision makers throughout Ireland are unaware of the benefits of an energy efficient organisation - delivering lower energy costs and a lower carbon footprint which contributes to achieving national emission targets. The European Union has implemented targets to reduce energy usage across all sectors, with some commentators saying that Ireland is likely to miss its 2020 emissions target "by a substantial margin". We are teaming up with ESB to explore ways to influence decision makers to make energy efficiency a strategic objective within their organisation which will save the planet through reduced carbon emissions and lower energy costs as well.
Plastics aren't going anywhere, and recycling packaging is one way we can tackle the environmental damage caused by plastics. Right now, 34% of plastic packaging in Ireland is recycled and the aim is to hit a 50% recycling rate by 2025. We'll need to overcome a number of technical, economic and behavioural challenges to reach that target, so we'll be working with recycling company Repak to look at how we can reduce plastic waste.
Half a million people in Ireland get migraines. For many, it's the worst pain they've ever experienced. Half of sufferers have not been properly diagnosed, which means missing work because of migraine can be stressful and challenging. The workplace itself can also become a minefield of migraine triggers, with fluorescent lights, loud noises and hazards at every turn. We'll be collaborating with pharmaceutical company Novartis to find ways we can improve the work lives of migraine sufferers.
THE FIRST ROUND OF THINK:TANK TICKETS ARE NOW AVAILABLE TO SCI:COM ATTENDEES. 
Proudly Supported By: 
When & Where

Science Gallery Dublin
Pearse Street
Dublin 2
Ireland


Wednesday, 6 December 2017 from 15:30 to 20:00 (GMT)
Add to my calendar