Description
NUI Galway's O'Donoghue Centre for Drama, Theatre and Performance presents the world premiere production of a new adaptation of Frank Wedekind's classic groundbreaking 19th century coming-of-age play Spring Awakening. Initially banned from the stage and censored throughout the 20th century in Europe and North America, Spring Awakening's frank and haunting treatment of adolescent sexuality, depression, suicide and academic pressure has been an artistic and social lightning rod since its early 20th century German stage premiere.

Transitions: A Spring Awakening Play transposes the action of the play to a contemporary Irish context and follows three young people, Dougie, Alex and Clara, and their immediate circle of friends and family during an eventful spring. The pressures of academic study and sexual discovery overwhelm these three friends' ability to navigate the challenging circumstances that they each find themselves in leading to individual and collective tragedy. Has Ireland come as far as we think we have? How should we understand the ongoing mental health crisis among young people? And if someone commits an unforgivable act, how should their story end?
Devised entirely by Third Year Drama and Theatre Studies students, and directed by Dr. Charlotte McIvor with movement direction by Jérèmie Cyr-Cooke, Transitions: A Spring Awakening Play tests the boundaries between the real world, our imagination, and somewhere beyond while asking what it means to face up the issues which define young people's discovery of self over generations.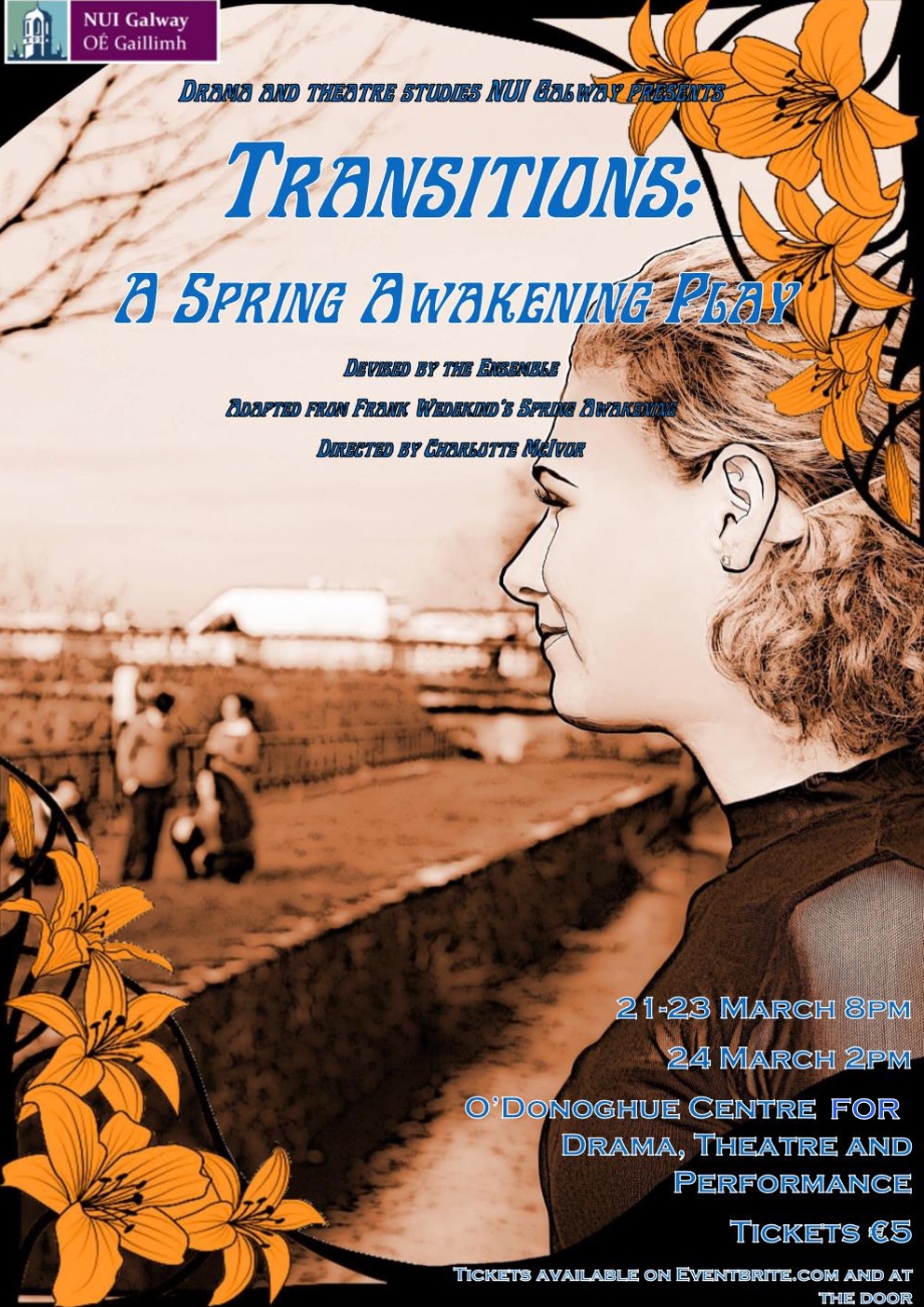 Devised by the ensemble in response to Frank Wedekind's Spring Awakening
Coralie Blanchard, Cadhla Boyle, Aoife Collins-Maynard, Áine Cooney, Alice Cunningham, Megan-Jane Devlin, Ross Gibbons, Claudia Glavey, Conor Gormley, Delia Keane, Emily-Jane MacKillop, Ailish McDonagh, Danielle McElroy, Charlotte McIvor, Daniel Murray, Shannon O'Flynn, Lucy Pollock, Molly Underwood
Cast (in order of appearance)
Aoife Collins-Maynard- Ella
Áine Cooney- Clara
Alice Cunningham- Mrs. Dempsey
Cadhla Boyle- Ruth
Conor Gormely- Alex
Daniel Granahan- Dougie
Ailish McDonagh- Andy
Delia Keane- Erin
Danielle McElroy- Poppy
Molly Underwood- Freya
Megan Glynn- Ms. Brogan
Megan Jane Devlin-Larsen- Ms. Grogan
Shannon O'Flynn- Mrs. Cassidy
Daniel Murray- Mr. Cassidy
Claudia Glavey- Ms. Quinn
Ross Gibbons- Sir
Lucy Pollock- Ms. Fahy
Artistic Team
Directed by Charlotte McIvor
Movement Direction: Jérèmie Cyr-Cooke
Stage Manager: Emily-Jane MacKillop
Production/Technical Manager: Michael O'Halloran
Assistant Directors: Coralie Blanchard and Claudia Glavey
Set Design: Megan-Jane Devlin, Daniel Murray and Jade Garcia-Weber
Lighting Design: Emily-Jane MacKillop and Ross Gibbons
Costume & Makeup Design: Megan Glynn and Molly Underwood
Sound Design: Delia Keane and Lucy Pollock
Props: Daniel Granahan
Script & Production Dramaturgy: Alice Cunningham, Aoife Collins-Maynard, Áine Cooney, and Conor Gormley
Lobby Display Design and Curation: Alice Cunningham
Assistant Stage Management: Ailish McDonagh, Colette Fennel and Jade Garcia-Weber
Set Construction & Scenic Painting: Megan-Jane Devlin, Michael O'Halloran, Coralie Blanchard, Ross Gibbons, and Emily-Jane MacKillop