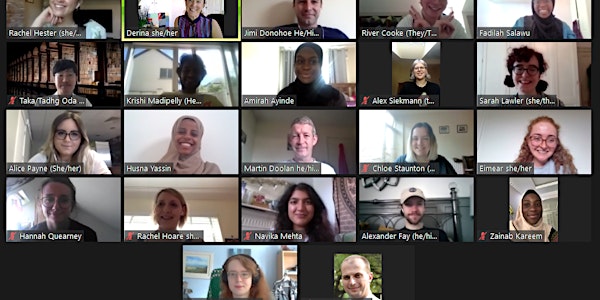 Trinity-INC Summer Student Partner Programme Showcase
A student-driven showcase exploring inclusivity, accessibility, and marginalisation, within the Trinity teaching and learning experience.
By Trinity Inclusive Curriculum Project
Date and time
Tue, 7 Sep 2021 05:00 - 06:00 PDT
About this event
Join us on 7th September 2021 13:00-14:00 online (Zoom Webinar).
Over the last three months, 18 students from across all Trinity faculties, at UG, PG and PhD level, came together for the Trinity-INC Summer Student Partner Programme to explore their experience of inclusion and exclusion within the curriculum at Trinity College Dublin. We asked them: What do you want Trinity educators to know about your experience? They responded with posters, presentations, podcasts, personal reflections and philosophical arguments, among other formats. These materials will be made available on the Equality / Trinity-INC website as well as used to inform Trinity-INC training.
Attendees of the showcase will hear from the students about their motivations behind the creation of their materials, as well as their experience of taking part of the Trinity-INC Summer Student Partner Programme.
The event is relevant to anyone involved in teaching at Trinity, as well as others who wish to learn more from students themselves as to what is meaningful in terms of an inclusive curriculum.
About the Trinity-INC Summer Student Partner Programme
The Trinity-INC Summer Student Partner Programme (SSPP) took place from June to Sept 2021 involving workshops and activities with 18 Trinity students from all walks of life and communities which are commonly underrepresented and/or disadvantaged, across the nine grounds of equality (gender, Travelling Community, disability etc.) and other circumstances, e.g. socio-economic backgrounds, caregiving responsibilities, experience of homelessness, etc.
The aim of the SSPP was to carry out a student-as-partner approach to raise awareness of experiences of inclusion and exclusion within curricula at Trinity. Insights from the Programme will inform the direction of Trinity-INC project, including training for teaching and learning staff, and ongoing involvement of students in the programme through the Student Partner Programme which will kick off during the 2021-2022 academic year.
About Trinity-INC
Based in the Equality Unit at Trinity College Dublin, the Trinity Inclusive Curriculum (Trinity-INC) Project commenced in October 2020 with the mandate to embed principles of equality, diversity and inclusion across all curricula at Trinity College Dublin.
Trinity's student population is increasingly diverse, with growing numbers of students from different socio-economic, ethnic, cultural and learning backgrounds, as well as students with disabilities, LGBTQ+ students, and mature students. To celebrate this diversity and continue to strengthen Trinity as a place of belonging for all students, we must ensure our curricula reflect the values of equality, diversity and inclusion. An inclusive curriculum supports Trinity's commitment to academic freedom alongside its commitment to quality of teaching and research.
An inclusive curriculum is one in which all students, regardless of background, personal circumstances, or learning abilities or strategies, have an equal and equitable opportunity to engage fully in their studies and achieve their learning goals. Research documents that exclusionary practices prevalent in universities damage student attainment and retention and negatively impact on student experience. There is no 'average' student: students are not one-dimensional but vary on many dimensions of learning, cultural and living circumstances. Inclusive learning environments nurture individual potential and support Trinity as a place of excellence for learning.