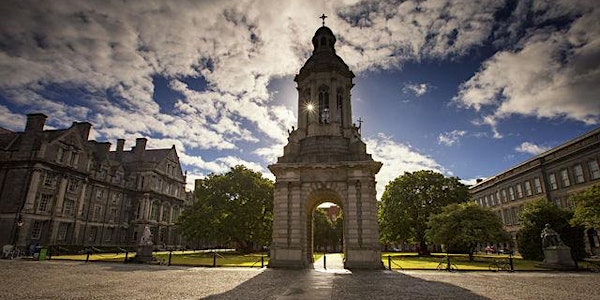 TrinMUN 2017
When and where
Location
Trinity College Dublin Ireland
Refund Policy
Contact the organiser to request a refund.
Description
Trinity College Dublin's Society for International Affairs is delighted to welcome you to our first ever Model United Nations Conference, TrinMUN 2017.

We invite you to enjoy two days of excellent debating in Ireland's oldest and most prestigous university. As part of this amazing experience, we'll provide you with an opening ceremony in our Victorian-era debating chamber in the Graduates Memorial Building, a relaxed Friday night reception and a Saturday reception and awards ceremony, as well as a full schedule of debating in one of our four committees: Security Council, Human Rights Council, Ecosoc and European Council.

If you'd like to join us at TrinMUN 2017, then you're in luck! The conference fee is only €25 which includes conference entrance, food and the two socials.
If you have any further questions, please don't hesitate to contact us at trinmun2017@gmail.com
NB: Applications for TrinMUN 2017 have now closed.

---
FAQs
How much do I need to know about MUN?

Delegates of all experience levels are welcome to TrinMUN, and we have different committees to cater to everyone. After all, the best way to get practice at Model UN is... to do some Model UN!!
Is there a minimum age requirement?
Unfortunately, we require all delegates to be at least 18 years of age in order to attend TrinMUN 2017.
How can I contact TrinMUN 2017?
You can send an email to trinmun2017@gmail.com or send us a message on our Facebook Page.
Will TrinMUN help with my visa application?
Unfortunately, we are unable to assist with visa applications, and delegates must ensure that they posess the necessary documentation to attend TrinMUN
How do I pay the delegate fees?
Individual delegates must pay their delegate fees during registration, by using Eventbrite's inbuilt secure payment processing system.
Should those registering on behalf of a delegation wish to do so, you may pay the delegate fees at a later stage via bank tranfer. To do so, select 'Pay by Invoice' under payment options during registration, and the Director of Finance will send you an invoice via email. Any fees associated with this method are the sole responsibility of the delegate. Please declare your intention to do so by email. All delegate fees must be paid within 21 days of your application (or by 31/01/16; whichever is earlier), otherwise, your application may be rejected.
Can I get a refund?
Refunds will usually be granted if a delegate requests one prior to 31/01/16. Beyond this date, refunds will only be given in exceptional circumstances, and with the sole discretion of the Board of Directors. Refunds can be requested through 'Eventbrite'.
Can I update my registration information?
You can change the information you provide during registration at any point, although we ask that you do this as soon as possible.
When will I receive my committee/country assignments?
Commitee and country assignments will be made during February 2017. While we'll try and ensure that everyone receives one of their preferences, unfortunately we cannot guarantee this. All country and committee assignments are made at the discretion of the Board of Directors.