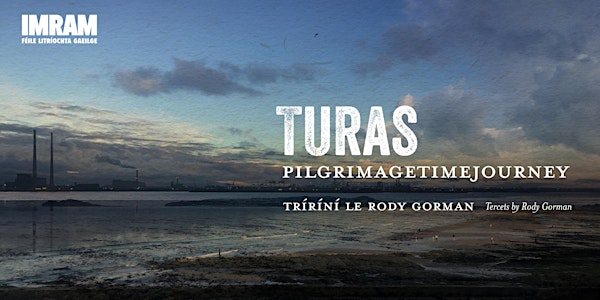 TURAS PILGRIMAGETIMEJOURNEY
TURAS / PILGRIMAGETIMEJOURNEY
Refund Policy
Contact the organiser to request a refund.
About this event
Baile Átha Cliath, Dún Laoghaire, Cill Mhantáin agus Ríocht ársa Chualann a spreagann saothar gleoite seo Rody Gorman, tírdhreach agus cuimhní fite fuaite ina chéile. Tugtar ar imram sinn ar fharraige focal ó íomhánna Phil Lynott, Lafcadio Hearn is Conor McGregor, radharc ar Manhattan i gcéin, an LUAS agus an DART, boladh Sweet Afton, agus Giúdais ar Shráid na Bua sa chathair, via Ceann Bré agus an Muiríoch, go dtí Málainn agus Cosán na Manach i gCill Mochura. Machnamh ar aislingí na hóige atá sa seó cumasach seo, le híomhánna scaileáin ó Mhargaret Lonergan agus fuaimdhreacha beo á gcruthú agus á seinm ag Seán McElaine. Tá cnuasach níos iomláine de na tríríní le fáil sa chnuasach le Rody Cuala, Dothra, Tríríní (Coiscéim, 2021).
Dublin, Dún Laoghaire, Wicklow and the ancient Kingdom of Cuala are at the heart of Rody Gorman's exquisite poetic pilgrimage through landscape and memory. In this series of tercets – three line poems in Irish and in English - Gorman takes us on a journey from images of Phil Lynott, Lafcadio Hearn and Conor McGregor, a view of Manhattan in the distance, the DART and the LUAS, the smell of Sweet Afton, and Yiddish on Victoria Street in the city, via Bray Head and the Murrough, to Maulin and the Monks' Walk in Kilmacurragh. Rody reads to visuals created by artist Margaret Lonergan and soundscapes created and performed by composer and musician Séan MacElaine. An extended version of the tercets is to be found in Rody's collection Cuala, Dothra, Tríríní (Coiscéim, 2021).