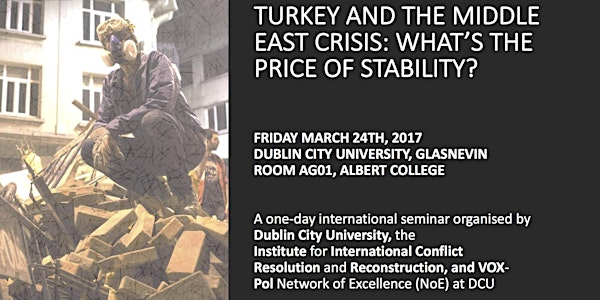 TURKEY AND THE MIDDLE EAST CRISIS: WHAT'S THE PRICE OF STABILITY?
When and where
Location
Dublin City University Collins Avenue Extension 9 Dublin Ireland
Description
The war in Syria, Iraq and the dreadful humanitarian situation due to the influx of refugees from the broader Middle East are the challenges that Turkey is facing today. The EU and other international powers promote political stability in the country because of their fear of a spillover of the crisis. This is done despite the recent growing authoritarian tendency of the Turkish government and the repression against civil society. While stability is needed for a country and a society to flourish, what is the price that the international community and Turkish society are willing to pay for it?
Speakers: Dr Halil Ibrahim Yenigun (EUME, Berlin), Dr Latif Tas (SOAS, London), Dr Jessica L. Doyle (Ulster University, Belfast), Dr Elisa Pascucci (Tampere University, Finland), Dr Vincent Durac (University College of Dublin), Dr Lisa McInerney (VOX-Pol, Dublin City University), Dr Paola Rivetti (Dublin City UNiversity), Prof John Doyle (Dublin City University).