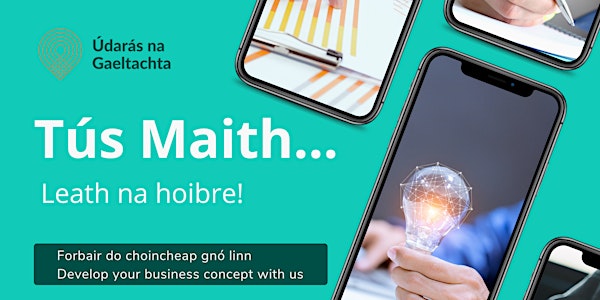 Tús maith...Forbairt Coincheapa/Concept Development
Tús Maith... Forbairt Coincheapa- Gnéithe le cur san áireamh do do choincheap Tús Maith…Concept Development -Considerations for your concept
About this event
"Tús Maith..." is the name of the Údarás na Gaeltachta Business Concept Development Programme. Please see our event page to register for our other events.
This session will feature an in-depth discussion with Dr Kristel Miller, Senior Lecturer Dept of Management, Leadership & Marketing - University of Ulster, on the topic of Innovation, Opportunity recognition, and Innovation Frameworks.
Following this, we have successful businessman Darach Ó Tuairisg, Managing Director of Meangadh Fíbín Teo. The theater company was established to provide high quality, lively and entertaining theatre through Irish for the youth. Darach will talk about how he has developed his concept and what has happened in the company in recent years.
Is Clár Forbartha Coincheap Gnó is ea Tús Maith…atá eagraithe ag Údarás na Gaeltachta chun smaointe gnó a fhorbairt. Féach ar ár leathanach ócáide chun clárú do na himeachtaí eile atá againn.
Ag an ócáid seo déanfaidh an Dr Kristel Miller, Léachtóir Sinsearach sa Rannóg Bainistíochta, Ceannaireachta & Margaíochta – Ollscoil Uladh, cur síos mion ar an téama Nuálaíocht, Feasacht Deiseanna agus Creatlaí Nuálaíochta.
Ina dhiaidh seo déanfaidh an fear gnó rathúil Darach Ó Tuairisg, Stiúrthóir Bainistíochta Meangadh Fíbín Teo. plé. Bunaíodh an comhlacht amharclannaíochta chun amharclannaíocht bríomhar, siamsúil d'ardchaighdeán trí Ghaeilge a chur ar fáil don aos óg. Labhróidh Darach ar an mbealach a d'fhorbair sé a choincheap agus cúrsaí sa gcomhlacht le blianta beaga anuas.