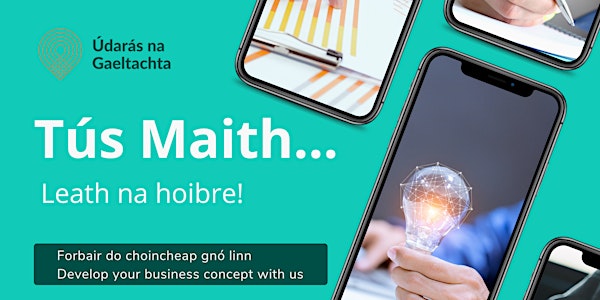 Tús Maith...Taighde Margaidh/Market Research
Tús Maith…Taighde Margaidh -Treochtaí agus Riachtanais Reatha Tús Maith…Market Research - Current Trends & Needs
About this event
"Tús Maith..." is the name of the Údarás na Gaeltachta Business Concept Development Programme. Please see our event page to register for our other events.
This session will feature a brief discussion from two cluster managers in the Bioeconomy, and Fintech sectors, alongside a manager of technology centre for Medical & Engineering Technologies . They will discuss sector trends, the developments/innovations within their sectors, and what they can offer members/interested parties. The speakers for the event are as follows:
Caitriona Power, Education & Outreach Manager - Circular Bioeconomy, Munster Technological University,
Catriona Murphy, Cluster Manager - Ireland South East Financial Services Cluster,
Sharon White, Technology Gateway Manager-Medical and Engineering Technologies (MET)
Is Clár Forbartha Coincheap Gnó is ea Tús Maith…atá eagraithe ag Údarás na Gaeltachta chun smaointe gnó a fhorbairt. Féach ar ár leathanach ócáide chun clárú do na himeachtaí eile atá againn.
Ag an gcéad ócáid déanfaidh triúr bainisteoir braisle pléigh gairid ar an earnáil Bitheacnamaíochta, earnáil Teicneolaíocht an Airgeadais, agus ar earnáil na dTeicneolaíochtaí Leighis & Innealtóireachta. Rachaidh siad i mbun plé ar threochtaí earnála, forbairtí/nuálaíocht ina n-earnálacha, agus céard is féidir lena mbraislí a chur ar fáil do bhaill. Is iad seo a leanas na haoichainteoirí:
Caitriona Power, Bainisteoir Oideachais & Fo-rochtana - Bitheolaíocht Ciorclach, Ollscoil Teicneolaíochta na Mumhan,
Catriona Murphy, Bainisteoir Braisle - Ireland South East Financial Services Cluster,
Sharon White, Bainisteoir Teicneolaíochta Tairsí - Medical and Engineering Technologies (MET)