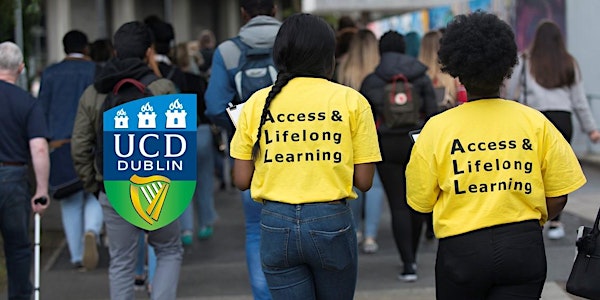 UCD University for All Seminar 3: From Consultation to Collaboration
Location
MoLI – Museum of Literature Ireland
86 Saint Stephen's Green
D02 XY43 Dublin
Ireland
UCD University for All Seminar 3: From Consultation to Collaboration: The Student Role in Creating a University for All
About this event
To celebrate World Access to Higher Education Day, UCD is delighted to present the third University for All seminar.
"The moment we decide to fulfil something, we can do anything" - Greta Thunberg
This seminar is the third in the series which questions assumptions, challenges narratives and proposes system change to ensure an inclusive educational experience for all. It evokes the power of the student voice as modelled by Greta Thunberg who reminds us that individuals have the power to create systemic change. At the heart of University for All lies the concept that 'a student is a student'. This seminar will outline how students are shaping the Access agenda and challenging assumptions. We will outline how students have disrupted our thinking and reshaped how we include all students in our university through culture change.
You will hear a number of examples of students as agents of change in the university and we will explore how the role of students has evolved as widening participation in higher education has moved beyond opening doors to enacting systemic change in every aspect of our university. You will learn about how access professionals can create a culture of innovation and creativity to be proactive, rather than reactive, to student challenges, enabling students to be autonomous, independent, effective learners. We will address the questions:
How do we ensure true collaboration and a leadership role for students?
What is the role of Universal Design in ensuring student success?
How can power be shared with students? Legislation, Policy, Practice?
Speakers:
Professor Mark Rogers, Registrar and Deputy President, UCD - Leading System Change/Towards a University for All
Simon Harris TD, Minister for Further and Higher Education, Research, Innovation and Science
Simon O'Connor, Director, MoLI - Museum of Literature Ireland - Democratising Culture
Dr Bairbre Fleming, Deputy Director, UCD Access & Lifelong Learning - Moving from Empathy to Empowerment in Student Support
UCD Students: Amy Hassett, Anu Bode Favours and Tobias Gunning
Ruairi Power, UCD Students' Union President
Dr Anna Kelly, Director, UCD Access & Lifelong Learning
Tea & coffee will be served from 2:30 at MoLI.
Please note that under current guidelines, mask wearing is required and evidence of of COVID-19 vaccination or immunity following recovery is required for entry.
This event will also be livestreamed over Zoom.