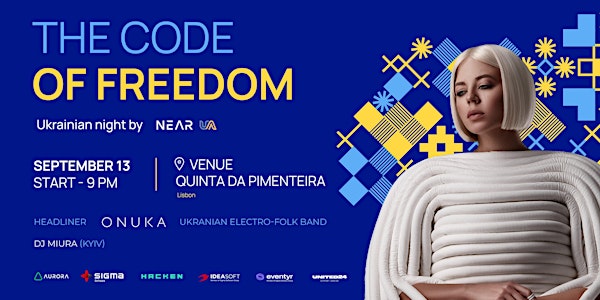 Ukrainian Night. Code of freedom. @NEARCON
Ukrainian Night. Code of freedom
When and where
Location
Quinta da Pimenteira Estrada Pimenteira 1300-125 Lisboa Portugal
Refund Policy
Refunds up to 1 day before event
Eventbrite's fee is nonrefundable.
About this event
UPD: We are SOLD OUT!🔥
A couple of points about our event for those who managed to grab their lucky ticket:
→ The outside and inside spaces will be available at our location. Therefore, warm clothing or layers isn't a bad idea, as evenings are often windy in Lisbon😁
→ We are expecting rain before the event, but no worries. Our party isn't canceled; we have plans B, C, and D 😉
→ We don't have any parking space, so you should consider grabbing a cab.
→ Ukrainian outfits or symbols would be nice, but don't worry if you don't have any. Our partners are putting together souvenirs for you.
P.S.: Unfortunately, you cannot buy a ticket at the entrance
NEAR UA HUB is preparing an unforgettable project for you. We want everyone to have the opportunity to learn a bit more about Ukraine this evening and get to know its culture, style, and incredible music. To feel the very code of freedom that helps Ukrainians now.
Ukraine is fighting for freedom and independence. And not only for the citizens, but for the whole of Europe, the world, because this can happen to any other country.
All Ukrainians that are in different parts of the planet, the whole world, help to resist the war with Russia. And every donation, every kind word, or a post on social networks, bring our common victory closer.
That is why there is an entrance fee to our event, and all 100% of the money raised will be directed to help Ukraine. A small contribution of each of us to the common cause.
Our goal – is 20,000 euros. Let's achieve it together!
The money will be allocated between two funds⤵️
🔹UNITED24. Was launched by the President of Ukraine Volodymyr Zelenskyy.
👉Goal: 10 000 euros for modular external fixators. Due to the increasing amounts of injured victims, Ukrainian hospitals are in dire need of modular external fixators.
🔹Help Kharkiv a charitable foundation by SIGMA SOFTWARE and IdeaSoft that helps preventing the humanitarian crisis in the Kharkiv region.
👉 Goal: 10 000 euros to purchase heaters, food, hygiene goods to help localities, that were cut off from civilization by war, prepare for the upcoming winter.
Waiting for you tonight ⤵️
🔹 Headliner of the evening "Onuka". Ukrainian electro-folk band. A mix of unique Ukrainian instruments and electronic music. We promise that you'll like it.
🔸 Dj Miura. Resident Kureni (Kyiv). Art Director Vognyk Bar (Kyiv).
🔹 Food&Drinks
🔸 Ukrainian souvenirs for each guest
🔹 Gifts from partners
🔸 Location that will sparkle with new colors once night falls
The partners of the event:
Aurora. A solution, that allows to execute Ethereum contracts in a more performant environment—NEAR blockchain
Sigma Software Group. Delivers premier-quality IT solutions to clients around the globe. We mix tech expertise with business thinking to help our Clients embrace digital transformation and reach their business goals
Hacken. Is the industry leader in cybersecurity auditing with a vision of making Web3 as a safer place.
IdeaSoft, member of Sigma Software Group. Empowers technology innovation by delivering outstanding products, modernizing systems, and implementing emerging technologies to ensure better business outcomes.
Eventyr, member of Sigma Software Group. Provides mobile and game development services with a focus on Web3, Play2Earn, and Metaverse solutions.