UnCorked Web3 City
Blockchain Ireland and Algorand Ireland present 'UnCorked Web3 City' With Origin Chain, Defactor, Sors Digital Assets, Bitcove, Chorus One
By Blockchain Ireland #Startups
Date and time
Wed, 14 Dec 2022 10:00 - 19:00 GMT
Location
the Banking Hall, Centre for Executive Excellence 1 Lapps Quay Cork Ireland
About this event
A one day conference of Web3 knowledge-sharing, networking and socialising
Venue A: The Banking Hall, Centre for Executive Excellence
10am | Registration
10.20 | Welcome - JB McCarthy, UCC
10.30-12.15pm | DLT and agri-food
Presenters: Origin Chain Networks, Plandail, Origino. Perspectives from Ireland, EU and Argentina.
12.15pm | LUNCH - Host: Bitcove
Crypto Soapbox: with Owen O'Driscoll, Plandail and Will Martin, LiveDuel.
UnCorked Treasures: with Cork-based NFT artist: Joyce Moloney and Chorus One.
1.45pm - 4pm | DeFi Focus
Presenters: Sors Digital Assets, Bitcove, Chorus One, AgroToken and Defactor. Perspectives from Ireland, EU, Asia and LATAM.
3.50pm | Closing remarks - Fiona Delaney, Blockchain Ireland #Startups and Web3 and Sara Jane Kenny, Algorand Ireland.
Venue B: Republic of Work
5pm - 7pm | Wine tasting with #Micropitching + Networking. Host: Origin Chain Networks
Venue C: Sober Lane
8pm - late | 'HODL A Drink' - UnCorked Afterparty. Hosts: Algorand Ireland, Sors and Defactor.
Prizes by: Algorand Ireland, Offchain, Origin Chain Networks, Joyce Moloney and sponsor swag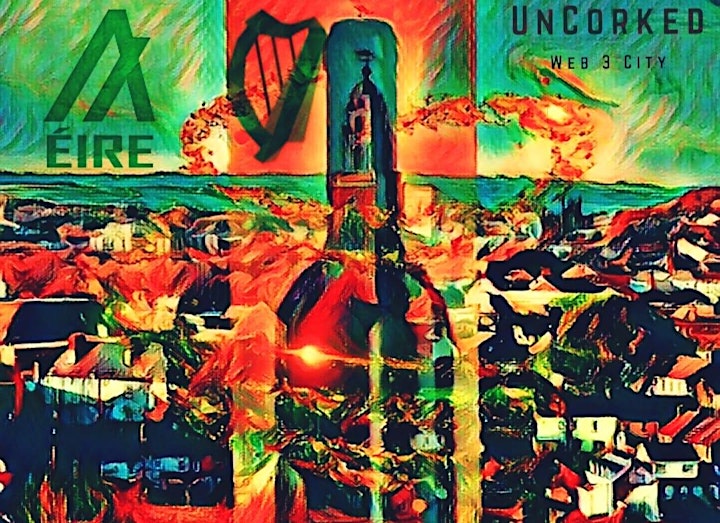 About the organiser
Fostering collaboration between emerging technology entrepreneurs and innovators to explore the emerging context of Web3, spawning curiosity and raising awareness about blockchain, DLT and tokenisation as problem solvers and pathways