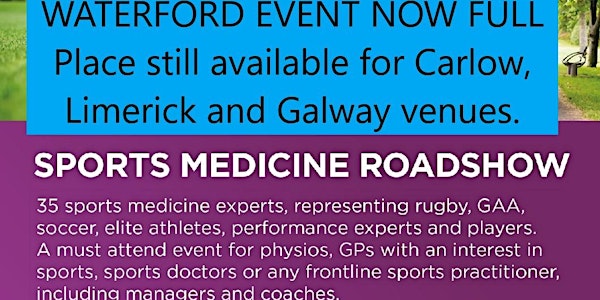 UPMC Sports Medicine Roadshow - Waterford
A must attend event for physios, GP's with an interest in sports, sports doctors or any frontline sports practitioners .
When and where
Location
WIT Arena WIT Arena Carriganore Ireland
About this event
The major objective of this Roadshow is to assemble health care practitioners from diverse disciplines who are involved in the care and management of athletes at risk of, and those affected by, sports-related injuries.
The Roadshow will include, management of sports-related hip groin and knee injuries as well as foot/ankle, concussion, S&C, nutrition, psychological impact of chronic injury and overall player welfare and much more.
The idea of different speakers across a variety of locations means that we can bring the hot topic discussion to your locality .
WATERFORD
WIT Arena • 23 October 2019
17:00 - 18:00 Registration and Tea/Coffee
18:00 - 18:05 INTRODUCTION AND OPENING WELCOME
Mr. Patrick Carton, Consultant Hip Surgeon
Session 1 FOOT AND ANKLE
18:05 - 18:13 Achilles Tendonopathy/Rupture:
Conservative Management and Outcome
Mr. Niall Geoghan, Physiotherapist
18:14 - 18:22 Achilles Tendonopathy/Rupture:
Surgical Management and Outcome
Mr. Ian Kelly, Consultant Orthopaedic Surgeon
18:22 - 18:29 Discussion and Questions
Session 2 KNEE
18:30 - 18:38 Surgical Treatment of ACL and Supporting Evidence
Mr. Tadhg O'Sullivan, Consultant Orthopaedic Surgeon
18:39 - 18:47 Rehab after ACL Injury
Mr. Shane Walsh, Physiotherapist
18:47 - 18:54 Discussion and Questions
Session 3 CONCUSSION
18:55 - 19:03 Physiotherapist's Role in Concussion:
Signs and Symptoms
Mr. Derek O'Neill, Physiotherapist and UPMC Concussion
Network Lead
19:04 - 19:12 Concussion Baseline Testing and Treatment
Dr. Tadhg Crowley, GP, UPMC Concussion Network
Clinical Lead
19:12 - 19:15 Discussion and Questions
19:15 - 19:35 BREAK
Session 4 SPORTS PERFORMANCE
19:35 - 19:44 An Evidence-Based Approach to Strength and
Conditioning
Mr. Joey O'Brien, S and C Coach
Session 5 HIP AND GROIN
19:45-20:00 Clinical examination of the Athletic Hip
Mr. Patrick Carton, Consultant Hip Surgeon
Mr. Craig Colliers UPMC Whitfield Hospital
20:01-20:09 Managing Chronic Injury from a Player's Perspective
Interview with Wayne Hutchinson, Waterford Hurler
20:10-20:17 Conservative Management and Outcome of
Femoroacetabular Impingement (FAI)
Ms. Mary Gleasure, Physiotherapist
20:18-20:26 Surgical Management and Outcome of
Femoroacetabular Impingement (FAI)
Mr. Patrick Carton, Consultant Hip Surgeon
20:27-20:35 Management of FAI: What the Research has to Say
Mr. David Filan, Clinical Research Assistant UPMC
20:35-21:00 PANEL DEBATE & OPEN FLOOR DISCUSSION
Faculty plus Mr. Eddie Jackman, Sports Therapist
21:00 - 21:30 CLOSING AND FEEDBACK FORM COMPLETION
This conference is accredited for 2.5 CPD points