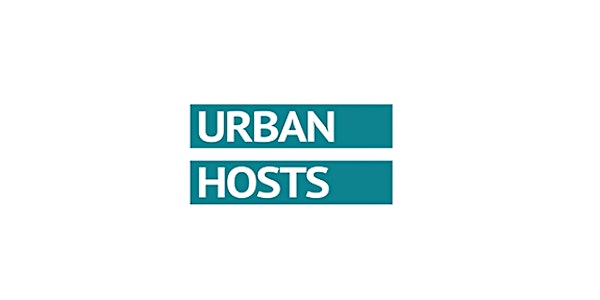 Urban Hosts
Attending to the techno-civic systems that organise urban living patterns.
When and where
Location
34A, Weichsel Str, 10247, Berlin 34A, Weichsel Str Friedrichshain (by S/U: Frankfurter Allee) 10247 Berlin Germany
About this event
Urban Hosts is a programme of events, which provokes and promotes practical approaches to urban life. Addressing topics relevant to the contemporary techno-civic, the programme brings together people who are actively producing alternatives to our given city infrastructures, norms and perceptions.
For the closing edition of Urban Knights 2019, in memory of the 30th Anniversary of the fall of the Berlin wall and our friend, mentor and collaborator Rotraut Pape (1956-2019), we will be screening Pape's The Wall – The Vertical Horizon followed by a discussion of the work, with her collaborator, Ninon Liotet, writer Fiona Shipwright and film programmer and curator Vanina Saracino.
++++
Rotraut Pape (1956 -2019) [DE]
Filmmaker, artist and Professor for Film/Video at the University of Art and Design, HfG Offenbach, Rotraut Pape's main interest was in the artistic potential of moving image, to raise critical social, political and ethical questions. Performance and installation played an important role in her work, as did theatrical representation and interactive experimentation. Parallel to Pape's artistic work, she realized numerous experimental documentaries for television (Arte/3Sat/ZDF), focusing on the subversive role of subcultures within a larger cultural landscape. A founding member of the Hessian Film and Media Academy (hFMA) and co-founder and curator of the B3 Biennial of the Moving Image Frankfurt and Kassel Dokfest, alongside her own work, Pape contributed significantly to several artist collectives such as Raskin, Frigo, Infermental.
The Wall – The Vertical Horizon
"The wall and what it symbolized stood out as a negative horizon throughout my entire life, which began in 1956 in Berlin, five years before the construction of the wall. Only one week after the wall came down, its disappearance was already foreseeable. I set out with a camera one last time to film continuously along the wall on November 17th 1989. The two-and-a-half hour route begins at the river Spree in Kreuzberg, follows the painted wall along deserted streets to Checkpoint Charlie, around Potsdamer Platz up to the Brandenburg Gate, ending after seven kilometers behind a desolate Reichstag with a view across the Spree, where the new government buildings now stands" [http://www.the-wall.berlin/. Accessed 3rd Dec 2019]
Repeating this process, Pape walked the wall on twelve other occasions between 1990-2014, resulting in a visual document that charts the borders, disapperance, voids and subsequent replacements. Beyond Pape's own "film walks" the piece continues as a loose set of instructions and directions, cared for by her collaborators and family, who continue to build on a work, that provides a potent glimpse into Berlin's changing urban dynamics.
Artist, filmmaker and editor shares her insights on collaborating with Pape on The Wall including the intention behind the work and it's legacy.
Exploring ideas of disappearance and the built environment, writer and editor specialising in architecture, reflects on Pape's work.
Situating Pape's work within the broader canon of contemporary video art, curator and film programmer discusses moving image, memory and the city.
This event is a collaboration with artist and film maker Ninon Liotet and Daniela Arriado [NO/CL], founder and director of Screen City Biennial and Art Republic. We are grateful to Rodi's family, Sigrid Pape and Charli Pape for their support in making this event happen.
+++