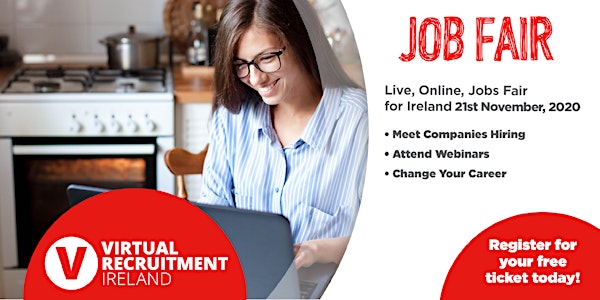 Virtual Recruitment Ireland - Online Jobs Fair (Sat, 21st Nov, 2020)
Find out about companies hiring and speak with recruiters online. Schedule calls and get interviews for an exciting new role!
About this event
Virtual Recruitment Ireland returns this autumn and will host Jobs Expo Dublin, Cork & Galway on Saturday, November 21st, 2020.
*To access the online expo on 21st November you will need to create your profile. You can do so right here.
Looking for a new job or to develop your career? Our Online Job Fairs could be your ticket to success! Free to register, you'll be able to find out everything you need from the recruiters and hiring managers by speaking with them at this event.
What can you expect at Virtual Recruitment Expo?
Employers actively recruiting for hundreds of jobs at home and abroad
Specialised recruiters dedicated to jobs in particular industries
Professional Career Coaches offering one-on-one CV, job seeking and career advice that'll help you advance in your career.
3 virtual stages for webinars and talks on important and topical issues by a diverse range of industry experts that'' help you find your dream job for 2021
Mark your diary now and start polishing up your CV and cover letters. This event is open to qualified professionals from Ireland and around the world.
Learn about exciting companies, the workplace culture, job openings, and opportunities for professional development.
During the event, you can speak directly with recruiters or hiring managers, and explore all kinds of career opportunities.
Places are limited so register now!
All appointments are conducted via the web on a mobile-friendly platform.
Date: 21st November 2020
Time: 10am-4:00pm
Tickets: FREE
Find out more on: www.virtualrecruitment.ie