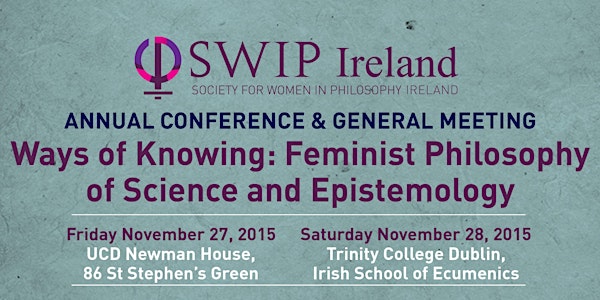 Ways of Knowing: 4th Annual Conference of the Society for Women in Philosophy - Ireland
When and where
Location
UCD Newman House and Trinity College Dublin 86 Newman House, St Stephen's Green Dublin Ireland
Refund Policy
Contact the organizer to request a refund.
Description
Society for Women in Philosophy – Ireland
4th Annual Conference and Annual General Meeting
Dublin, November 27 and 28, 2015
Friday November 27
Venue UCD Newman House, 86 St Stephen's Green *
9.00-9.30 Registration
Session 1. A. 9.30 -11.00
Physics Theater, Newman House
Opening Welcome followed by
Plenary Session 1
Feminist Epistemology and the Relativist Menace
Maria Baghramian (UCD)
Kathleen Lennon (University of Hull)
Expressing the World: Merleau-Ponty and the new feminist materialisms
11.00-11.30 Coffee
Parallel Session 1 A:Lecutre Theatre 11.30-1.00
The Pragmatism and Problems of Ecological Thinking
Devin Fitzpatrick, University of Oregon
Epistemic Diversity and Gender Neutrality: On the Possibility of Embodiment without Essentialism
Nicolle Brancazio, University of Memphis
The Truth of the Matter
Helen Mussell, University of Cambridge
Parallel Session 1.B: 11.30-1.00
Physics Theatre, Newman House
Imaginative ResistanceExpanded
Amber Rose Carlson, Vanderbilt University, Nashville, Tennessee
Testimonial Injustice: A second-personal account
Audra Goodnight, Saint Louis University, St. Louis, Missouri
Parallel Session 2 A 2.30-4.00
Lecture Theatre, Newman House
CanNon-Cognitive

Values

HaveaBeneficialRoleintheAssessmentofScientificTheories?ACase Study of EvolutionaryPsychology
Silvia Ivani Tilburg University, The Nerherlands
Expertise and Gender in Science
Darcy McCusker, University of Washington
Theory-Ladenness and Pluralism in an Experimental Context
Jamie Shaw, University of Western Ontario
1.00-2.30 Iveagh Room, Newman House
Annual General Meeting of SWIP Ireland
(Sandwich lunch provided)
Parallel Session 2B 2.30-4.00
Physics Theater
Battling Epistemic Injustice: More Poetry Than Prose
Sandra Skene, Vanderbilt University, Nashville, TN
Katherine O'Donnell, UCD
Stopgap: The Play of Ignorance in Maria Edgeworth's Castle Rackrent
Vertical Rolls: Performing a Gendered Reading of Bernard Stiegler
EL Putnam, Dublin Institute of Technology
Coffee Break 4.00-4.30
Parallel Session 3A 4.30 - 6.30
Lecture Theater, Newman House
Epistemic oppression
Emily McWilliams, Harvard
Epistemic
advantages

of the epistemically

disadvantaged?

What

a

difference

the
first-­person
perspective makes
Nadja El Kassar, ETH Zurich
Feminist Perspectivism: A Case for a Nietzschean Critique of Social Hierarchy
Chevan L. Lindsay, Georgia State University, Atlanta
Argument as Combat.
Jonathan Blamey, London
Parallel Session 3B 4.30-6.30
Physics Theatre, Newman House
Knowledge in the Face of Silence
Pamela Foa, Brown University, USA
Acquaintance with Others'Perspectives, and Why Feminist Epistemology Needs an Account ofIt
Katherine Dormandy, University of Innsbruck, Austria
Stories Count: testimony, gender, and knowledge
Karyn L Freedman, University of Guelph, Ontario
Epistemic authority. Women as co-producer of the meanings that shape our culture
Inmaculada Perdomo Reyes, Universidad de La Laguna, Tenerife
6.30- 7.30 Conference Reception
7.30-9.30 Conference Dinner
Saturday November 28
Venue: Trinity College Dublin, School of Ecumenics
Parallel Session 4 A 9.300-11.00
The idleness of truth relative to shared milieu (or how not to make sense of ideology critique)
Riin Kiov, University of Tartu, Estonia
The Relevance of Feminist Epistemology for Educational Research
Valerija Vendramin, Pedagoški inštitut, Ljubljana
Paralle Session 4 B 9.300-11.00
Brain, Gender and Cognition. Feminist Critical Approach to Neuroscience
Aleksandra Derra, Nicolaus Copernicus University, Poland
On the Politics of the Function Inference
Megan Hyska, University of Texas at Austin
Meredith Plugg, University of Sheffield, UK
Autism and the gendered ways of knowing hypothesis
11.00-11.30 Coffee
Session 5 11.30-12.30
Epistemology's Liberatory Futures
Phyllis Rooney, Oakland University, Michigan
Are Women's Lives (Fully) Grievable? Gendered Framing and the Normalization of Sexual Violence
Dianna Taylor, John Carroll University, Ohio, USA
Lunch Break 12.30-200
Session 6 2.00 – 4.00
Objectivity and Situated Knowledge
Roxana Baiasu Oxford University and Birmingham University
Feyerabend—Feminist Philosopher ofScience?
Ian Kidd, Durham University, UK
Authoritative beliefs, stereotype threat, and alienation: a story of wronged rights
Ana Barandalla, Coventry, UK
Must we be either ignorant or biased?: A solution to Gendler's dilemma
Alessandra Tanesini, Cardiff University, Wales
3.30-4.00 Coffee
Plenary Session 2 and Close of Conference 4.00-6.00
Helen de Cruz , VU University Amsterdam
Gender and the public understanding of science: The underrepresentation of women as science communicators and its societal and epistemic consequences.
Linda Alcoff, CUNY, New York
Decolonizing Epistemology
Dinner
* Please note that all the sessions for the first day of the conference will take place in UCD's Newman House in St Stephen's Green, Dublin 2 and the sesssions for day 2 are scheduled in the School of Encumenics in TCD, also in Dubln 2. The two venues are in 10 minutes walking distance of each other and easily accessible by bus and other means of public tranport.
FAQs
What are my transport/parking options getting to the event?
Various buses, Luas, DART
Where can I contact the organiser with any questions?
Maria.Baghramian@ucd.ie
What is the refund policy?
No refunds