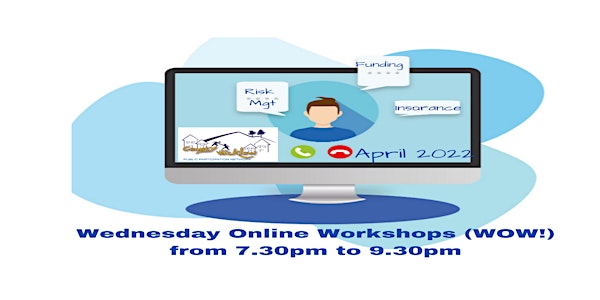 Multiple dates
Wednesday Online Workshops with Co. Wicklow PPN
Online Information and Support sessions for Community Group on Funding Available, Risk Management and Insurance
By Co. Wicklow PPN (Public Participation Network)
Date and time
Wed, 6 Apr 2022 11:30 - Wed, 27 Apr 2022 13:30 PDT
About this event
Join us and a host of experts to access information to support the valuable work of your community group on the following topics:
Funding: Meet the Funders. Over two Wednesday evenings (6th & 13th April) you are invited to join us on zoom to meet Funders & if time permits Fundraisers.  The aim of the sessions is to help support your group to access funding and gain useful tips when considering the; what, when and how of funding your group's activities.
6th April: We will be joined by Wicklow County Council to hear about the variety of funds they administer and get insights into making a funding application to them.
13th April: We will hear from a selection of other Funders about the funding opportunities they provide, we will get an insight into their funding process, and we will get tips on making funding applications. The Funders that will be joining us are:
The Community Foundation for Ireland
East Coast Fisheries Action Group (FLAG)
Arklow Wind Farm
SECAD (Community Fund for Wind Farms)
Eirgrid - currently don't have a fund open in Wicklow but will give us insights into funding applications.
Risk Management & Insurance: Join us on the 20th and 27th April to access information on Safety and Risk Management and Insurance Cover. These sessions aim to support your group to implement good governance and practice in relation to safety and risk management and to gain insights into appropriate and affordable insurance cover.
20th April: We will bring you a session on Risk Management This session, delivered by Carmichael, will enable participants to develop a good understanding of Risk Management within an organisation and the tools which can be employed to minimise risk. It also shows how the roles of Boards is vital for effective risk management and how risk management makes for very effective Boards.
Topics covered include:
• Understand Risk
• Understand Risk Categories
• Understand Risk Management and Know Why It Is Important
• Understand What Makes A Good Risk Management System
• Drafting your own Risk Management Strategy
27th April: We have shared your questions about Insurance, submitted to us as part of our Annual Members Survey with Martina Westphal from BHP Insurance. Martina's presentation will address 'all things Insurance' and the issues raised by our members.
There will be time for questions and answers at all sessions.
If you have any questions or would like to chat with us ahead of any of the sessions, please don't hesitate to contact us at info@countywicklowppn.ie or call Helen on 087 1895145/Grainne on 086 0487434
See you on Wednesday evenings during April.
About the organiser
Co Wicklow PPN is a network of community groups throughout the county.  Membership is free and the PPN has a diverse membership base.  The PPN has three main functions:
1.  To provide a structure for Co. Wicklow community groups to nominate community representatives to decision and policy making bodies in the county.
2.  To act as a channel for information between various local and national bodies and community groups
3.  To support member groups to grow, develop and be informed.
To become a member of Co. Wicklow PPN - check our our website http://www.countywicklowppn.ie/