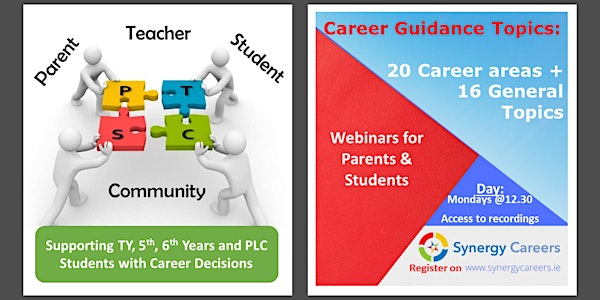 Multiple dates
Weekly Career Guidance Webinars : Guide for Parents & Students
Weekly Webinars on 36 career guidance topics with guest speakers providing a guidance, college and student perspective. for Parents/Students
Date and time
Mon, 20 Feb 2023 04:30 - Tue, 6 Jun 2023 05:30 PST
About this event
36 webinars are scheduled during the academic year. Topics are based on General Career Guidance areas, such as CAO Application to Cost of Going to College (16 topics in total) and our Careers in....Series looking at 20 different career areas such as Law, Engineering, Hospitality etc..Check out our schedule on https://www.synergycareers.ie/webinars-workshops/
Synergy Careers provides a general guidance information perspective, guest speakers range from various colleges, registering bodies, employers to students, graduates or parents. Each webinar is recorded and uploaded to our website.
Membership plans allow for various degrees of access. Limited access to recordings for 1 day post each webinar for FREE. Basic and Premium membership plans allow for UNLIMITED access to ALL recordings + from €25 to €40 for 12 months from date of purchase for Individual Plans. School Membership plans are also available. and for our membership plans, check out https://www.synergycareers.ie/become-a-synergy-careers-member/
Frequently asked questions
Where can I register to attend the webinar?
What happens if I miss the webinar?
How do I get to watch the recording afterwards and what will it cost?
If I want to watch more than 1 recording what would you recommend?
Who are the guest speakers?