Wellbeing in the curriculum: progress, opportunities & collaboration
This VIT&L event will stimulate important conversations about student wellbeing in Higher Ed both present and future. Spread the word!
About this event
Funded through the National Forum's Valuing Ireland's Teaching and Learning (VIT&L) initiative, this event is organised by a team of researchers and academics from Irish Higher Education institutions who are working on student wellbeing projects. The aim of this event is to share learnings, stimulate conversations and connect individuals in a national community of practice.
Overview:
Supporting students' physical and psychosocial wellbeing in higher education is a significant concern for institutions, staff and students alike. Aligned to the National Forum's definition of 'student success', providing opportunities for students to learn about their wellbeing within their academic structure is an important area for growth. This half-day event will showcase some of the national efforts to embed wellbeing in the curriculum across higher education in Ireland, highlighting lessons learned and areas for further progress. The session will feature 3 core perspectives: case study presentations; student needs and experiences; and a panel discussion on the institutional and national policy landscapes. Students, staff, service providers, policy makers, industry representatives and other interested participants are encouraged to attend as we aim to develop a community of practice to further the cause of student wellbeing in higher education. Register to hear more and take part in this conversation!
Speaker bios:
Dr Denise McGrath is an Assistant Professor in the UCD School of Public Health, Physiotherapy and Sports Science, and a Funded Investigator in the Insight SFI Research Centre for Data Analytics where she chairs the Education and Public Engagement Committee. Her areas of interest include personal and professional development, self-management and wellbeing, and she leads a number of pedagogical and research initiatives in these areas.
Dr Deirdre Byrne and Dr Jessica Surdey are researchers based in IT Sligo and TCD, respectively. They recently authored a report funded by the National Forum and the Union of Students in Ireland titled "Embedding wellbeing across the curriculum in higher education". Prior, they authored the National Student Mental Health and Suicide Prevention Framework with Treasa Fox of AIT as part of the SynthSCS project.
Dr Ciara Duignan is a Postdoctoral Researcher in the Insight SFI Research Centre for Data Analytics at UCD, where she leads a digital student wellbeing initiative called FLOURISH. With Dr Denise McGrath, she developed a new elective module for student wellbeing and personal development called 'Sort your life out and thrive'. Ciara will present on the rationale behind their initiatives and will be joined by students who have taken the new module to hear about their experiences.
Denise, Deirdre, Jessica and Ciara make up the organising committee for this event.
Paula Mullen is a Lecturer in Public Relations, Communication, and Life Skills for Enterprising Graduates at DKIT. She has extensive private sector and marketing experience and will talk about her work in positive education, including stress management, time management, resilience and motivation.
Dr Tamara O'Connor is an educational psychologist with over thirty years' experience of helping students enhance the way they study and learn. She works on the Student Learning Development team in the Trinity College Dublin Student Counselling Services. Her research has focused on student and peer learning in higher education and the science of learning. Tamara has a special interest in positive psychology and the role of emotions in learning.
Jackie Ruttledge is a Lecturer in Health, Wellbeing and Behaviour Change in the Department of Health and Leisure Studies at MTU, where she coordinates Healthy MTU on the Kerry Campus. Jackie will discuss her work and the importance of having a wellbeing champion in senior administration.
Prof Alan Smeaton is a Founding Director of the Insight SFI Research Centre for Data Analytics at DCU. Alan leads the Insight student wellbeing initiative FLOURISH at DCU and coordinates an extra-curricular online module for student wellbeing. Alan will present on some of the opportunities to harness personal digital data to support student wellbeing in Higher Education and will join the panel discussion at the event.
Panellists
Aoife Bracken is the Education Officer for UCD Students' Union
Sorcha Carthy is Senior Manager for the Human Capital Initiative, Skills & Engagement at the Higher Education Authority
Prof Jason Last is the Dean of Students at UCD
Caroline Mahon is part of the DCU Student Support & Development Team
Brian Mullins is Director of Health Promotion at Healthy UCD
Lee O'Farrell has led National Forum initiatives in Learning Analytics and Student Success and is the Student Record Manager at UCD Registry
Prof Alan Smeaton is a Professor of Computing at DCU
Agenda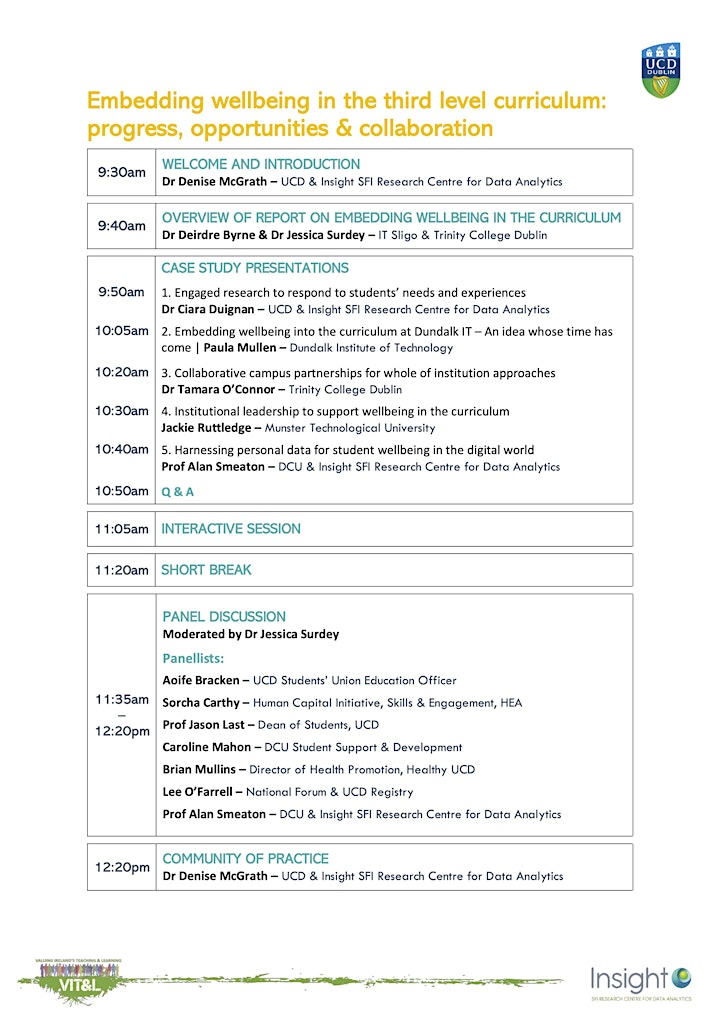 Alternative text for the image of the agenda above:
Title of event: Embedding wellbeing in the third level curriculum: progress, opportunities & collaboration
Agenda
9:30am WELCOME AND INTRODUCTION
Dr Denise McGrath – UCD & Insight SFI Research Centre for Data Analytics
9:40am OVERVIEW OF REPORT ON EMBEDDING WELLBEING IN THE CURRICULUM
Dr Deirdre Byrne & Dr Jessica Surdey – IT Sligo & Trinity College Dublin
9:50am – 11:05am CASE STUDY PRESENTATIONS
1. Engaged research to respond to students' needs and experiences
Dr Ciara Duignan – UCD & Insight SFI Research Centre for Data Analytics
2. Embedding wellbeing into the curriculum at Dundalk IT – An idea whose time has come
Paula Mullen – Dundalk Institute of Technology
3. Collaborative campus partnerships for whole of institution approaches
Dr Tamara O'Connor – Trinity College Dublin
4. Institutional leadership to support wellbeing in the curriculum
Jackie Ruttledge – Munster Technological University
5. Harnessing personal data for student wellbeing in the digital world
Prof Alan Smeaton – DCU & Insight SFI Research Centre for Data Analytics
11:05am INTERACTIVE SESSION
11:20am SHORT BREAK
11:35am – 12:20pm PANEL DISCUSSION
Moderated by Dr Jessica Surdey
Panellists:
Aoife Bracken – UCD Students' Union Education Officer
Sorcha Carthy – Human Capital Initiative, Skills & Engagement, HEA
Prof Jason Last – Dean of Students, UCD
Caroline Mahon – DCU Student Support & Development
Brian Mullins – Director of Health Promotion, Healthy UCD
Lee O'Farrell – National Forum & UCD Registry
Prof Alan Smeaton – DCU & Insight SFI Research Centre for Data Analytics
12:20pm COMMUNITY OF PRACTICE
Dr Denise McGrath – UCD & Insight SFI Research Centre for Data Analytics
12.30pm CLOSE
Organiser of Wellbeing in the curriculum: progress, opportunities & collaboration