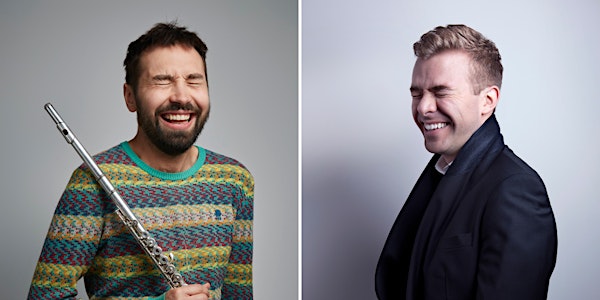 West Wicklow Chamber Music Festival: Adam Walker & Fiachra Garvey
Event Information
Location
Russborough House
Russborough
Blessington
Ireland
Enjoy the "stunning talent" of flautist Adam Walker and the "infectious enthusiasm" of pianist Fiachra Garvey.
About this event
ARTISTS
Adam Walker flute & Fiachra Garvey piano
PROGRAMME
Mozart Piano Sonata No. 17 in Bb major, K570 (arr. for flute and piano)
Tailleferre Pastorale et Forlane
Poulenc Sonata for Flute and Piano, FP164
Gerald Barry Blessington (world premiere)
Prokofiev Sonata for Flute and Piano in D major, Op. 94
Settle in for 5 days of incredible music as the 2022 West Wicklow Chamber Music Festival launches with the 'stunning talent' (The Guardian) of flautist Adam Walker, and the 'infectious enthusiasm' (Sunday Times) of pianist Fiachra Garvey, who is also the festival's artistic director.
Originally penned for piano, Mozart's tuneful Sonata No. 17 is beautifully suited to the quicksilver elegance of this more recent arrangement for flute and piano.
The flute enjoyed something of a golden era in Mid-20th Century France, its ability to capture a certain je ne sais quoi atmosphere of the time winning the hearts of many accomplished composers. Among them were Francis Poulenc and his contemporary Germaine Tailleferre, the only woman in the important group of French composers known as "Les Six".
"We all need some Gerald Barry in our lives: if you haven't got any yet, you must do soon." So said The Guardian's Tom Service, and we couldn't agree more. We're honoured to bring you a new work from Gerald Barry to mark the 80th anniversary of the sinking of the Blessington Lakes (Poulaphouca Reservoir). Whilst the lakes today contribute to the exquisite beauty of West Wicklow, it is important to remember that for those who lost land, homes and livelihoods in the late 1930s, these lakes represent something very different. This work commemorates their considerable sacrifice.
While hard at work on his monumental film score for Ivan the Terrible, Prokofiev somehow managed to find the time to sketch out his Flute Sonata. By turns lyrical, playful and hugely expressive, it brings this opening concert of the Festival to a thrilling close.
The West Wicklow Festival would like to express its sincere gratitude to the Thomas Dammann Junior Memorial Trust for their financing of Gerald Barry's commission.
"The fluency and apparently effortless virtuosity of this extraordinary musician... was spellbinding."The Guardian on Adam Walker"…a deep and infectious enthusiasm, combined with insight and technical comfort." Sunday Times on Fiachra Garvey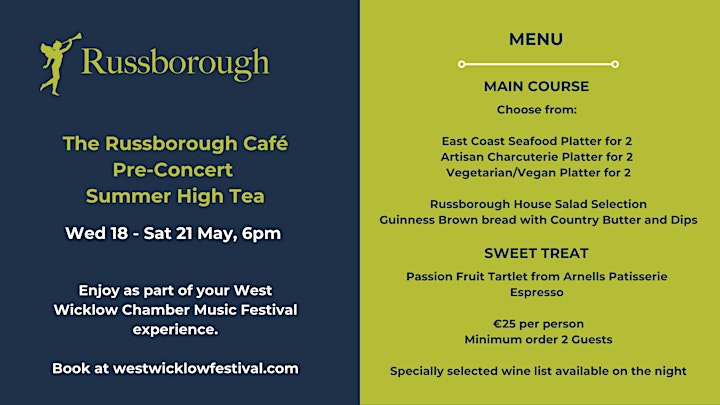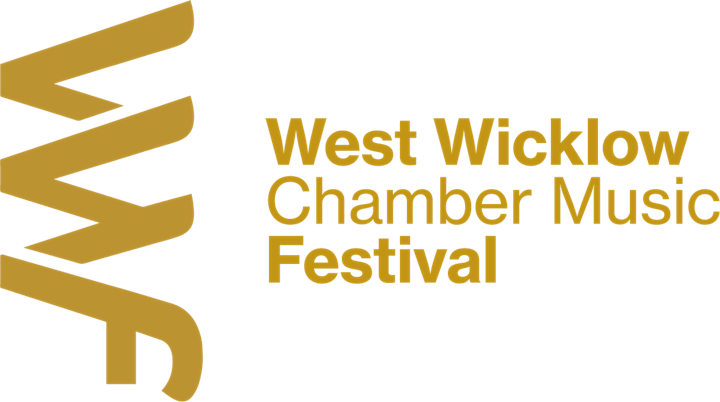 Date and time
Location
Russborough House
Russborough
Blessington
Ireland
Refund policy