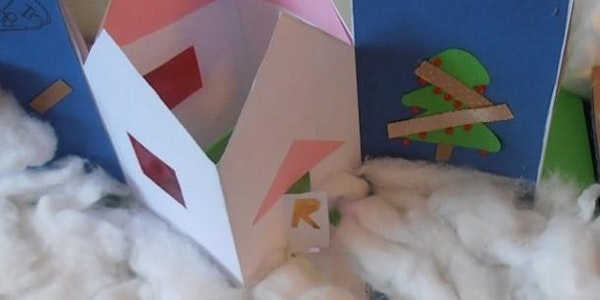 Winter World Workshop - Zoom Workshop for Families with Claire Halpin
Join artist Claire Halpin from the comfort of your home via Zoom as she hosts a special Winter themed Workshop Saturday November 28th.
Refund Policy
Contact the organiser to request a refund.
About this event
Join artist Claire Halpin via Zoom for this creative hands-on Winter-World Workshop.
Using card and some simple folding techniques to create a 3D winter landscape, you can add some natural and found materials (from a walk or your garden) and maybe even create a log cabin to cosy up beside the fire!
This will be a live participatory hands-on Saturday early after noon workshop, with 10 families in the session.
Before booking, please take note of the below notes, rules, and pre-gathered materials needed for Winter World Workshop;
Materials to gather:
A3 Card/ Recycled cardboard – 2 sheets
Coloured paper/ card
Pencil
Coloured pencils/ markers
Scissors
Glue stick
Sellotape
Tin foil
Kitchen Roll/ Tissue
Twigs or Evergreen
Bits and bobs – ribbon, lollipop sticks, patterned paper, wire, fabric, cotton wool
Attendee Outline:
Winter World Workshop is for Children between the ages 7-10
One ticket need only be purchased per household/screen
A maximum of 10 screens/attendees/families may be admitted to the Workshop
Zoom Guidelines & Settings
The required ZOOM link will be sent to all attendees via Eventbrite 24 hours before the workshop is to start (Saturday November 28th, 12pm)
As further protection, each unique link will be accompanied with a password only for those intending to participate, and sent to the email used to book through Eventbrite
ZOOM's 'Waiting Room' feature has been enabled, allowing the host to check and admit attendees to the session. Please make sure your ZOOM username/profile name matches that which was used to book through Eventbrite
Use of Social Media Accounts to sign into the Workshop ZOOM meeting have been disabled to protect privacy of attendees
Workshop will be locked once all scheduled attendees have been admitted
File Sharing has been disabled
ZOOM's Chat Save function will be disabled
ZOOM's Private Chat function will be disabled