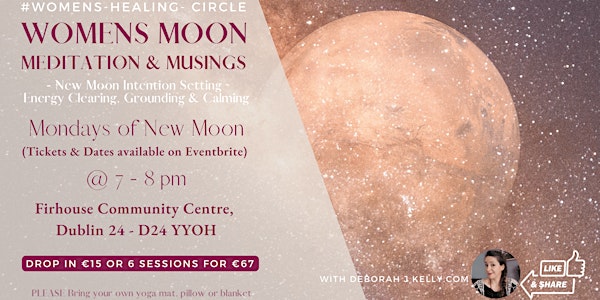 Multiple dates
Womens Moon Meditation & Musings - LIVE Healing, Wellness, Self Care
Women,if you are a FREEDOM loving, DEEP thinking, TRUTH seeking, PERSONAL DEVELOPMENT loving, CURIOUS learning addict, then this is for you!
Date and time
Mon, 20 Feb 2023 19:00 - Mon, 14 Aug 2023 20:00 GMT
Location
Firhouse Community & Leisure Club Ballycullen Drive 24 Firhouse Ireland
Refund Policy
Contact the organiser to request a refund.
About this event
****IMPORTANT ******* Payment to be made via contacting Deborah on deborahjkelly.com@gmail.com or texting 087 7530996/ Payment can then be made via Revolut/ Bank Transfer
1x Womens Moon Meditation Session €15
6x Womens Moon Meditation Sessions €67 (Package Price)
Who are these sessions for?
These sessions are ideal for women of all ages, with curious minds who want to heal, learn, grow and evolve... all while bringing a little calm back into your world!
If you love a bit of down-to-earth woo-woo, without the BS and the Fluff
and...
If you want to learn some practical day to day wisdom, tools, astrology nuggets and more to help you find more ease and flow in your life - then you will love these sessions with Deborah J!
_________________________________________
Dates of Women's Moon Meditations & Musings
Monday 20th February @ 7-8pm
Monday 20th March @ 7-8pm
Monday 17th April @7-8pm
Monday 15th May @7-8pm
Monday 12th June @7-8pm
Monday 17th July @7-8pm
Monday14th August @7-8pm
Tickets: Single Session €15 / Pack of 6 Sessions for €67
_________________________________________
So, WTF is New (or Full Moon???)
The NEW MOON is a time for going inward, sowing the seeds or setting intentions for the weeks ahead. New Moon happens every 28 Days; there is 2 Weeks between the New and Full Moon.
The FULL MOON is a time for reflection and contemplation, looking at what has ripened and developed over the weeks since New Moon. Full Moon happens every 28 Days; 2 weeks after the New Moon.
We will be using the NEW MOON for our sessions (and pending numbers and interest, I may hold FULL MOON Sessions in future also)
_________________________________________
What to expect?
Join Deborah J for some relaxing, healing and grounding meditation sessions.
In these sessions you will learn more about the Moon and her cycles, you will enjoy relaxing meditations and learn lots of practical day to day wisdom and tools for Self Care
(beginners welcome, no experience required).
We will use the energy and themes of the current astrological Moon cycle, in a way that's practical and down to earth.
You don't have to know anything about the moon, meditation, astrology or healing work - all you need is a curious mind that is interested in learning about self care, alternative and natural healing, and want to learn how to come back into balance!
Working with the current energy of the New Moon offers us the opportunity to come back into balance, into alignment with our own natural rhythms.
When we are in a state of flow we can feel more calm, balanced, grounded, sleep better, have better digestion, less busy minds, and be able to tackle life's ups and downs with more ease and flow!
_________________________________________
Will all the meditation and musing sessions be the same?
Each New or Full Moon Meditation & Musing will vary from month to month; focusing on the energy, astrology and characteristics of that Moon Cycle.
Keeping it simple, teaching you a little each month on how to work with these natural energies and how to maximize the energy for the weeks ahead.
_________________________________________
Who the heck is Deborah J?
Deborah J is an intuitive Womens Holistic Therapist, Astrologer, Life Skills Mentor, Podcast Host (Intrepid Wisdom) and Author of the three part book series 'Coming Home to Me'.
She is based in Dublin 18 & works with clients both in person and online; in Ireland, the US, CANADA, & UK
Having traveled the world and studied many various therapies such as Reiki, Reflexology, Natural Plant Medicine, Herbal medicine, Astrology, Hypnosis, and so so so much more Deborah J offers you to join her for these heart warming and sou nourishing sessions.
Deborah J's passion is helping women who are FED UP trying to FIX themselves, using mainstream conventional methods, who are struggling with stress, anxiety, fear, overwhelm, and repetitive health, relationship and life challenges, to come back into balance....
Helping you to uncover more of who you truly are, reconnect with your inner wisdom and help you to interpret and understand the deeper meaninng behind your experiences - my purpose to help show you how to turn challenges into opportunities for growth.
You can learn more here https://deborahjkelly.com
_________________________________________
***PLEASE NOTE - WHEN YOU SIGN UP FOR THIS EVENT YOU ARE ALSO SIGNING UP FOR MY FREE REGULAR(ISH) NEWSLETTER called the 'Oh No not another F**king Newsletter' Newsletter...
(Don't worry... you can UnSubscribe at any time... and you wont get spammed... I'm not nearly consistent enough for that to happen!!! All my newsletters are written from the heart... and yes, of course there will be the odd salesy bits in there but overall I like to keep it personal...)*****
About the organiser
Hi! I'm Deborah J, and I work with women who are struggling with stress, anxiety, fear and overwhelm. They are fed up trying to 'fix' themselves using mainstream healing modalities. They feel like they are getting nowhere, stuck on factory default settings, and are searching for the deeper meaning behind their reoccurring life, relationship and health issues.....
Using a combination of holistic healing wisdom and tools I help women, just like you, to come back into balance. So much of our pain comes from a disconnection to ourselves, not knowing who we are, what we need, what we are meant to be doing with our lives. I help you to uncover more of who they truly are, reconnect with your inner wisdom, understand and interpret your life experiences, and then teach you the tools on how to navigate life's ups and down, with more ease and flow - Heal, Learn, Grow, Evolve!
My passion is no BS, down to earth, practical woo-woo without the fluff!
I use a unique combination of Reiki, Astrology, Meditation, Holistic Life Skills, Journaling, Natural and Traditional healing. I love to weave in other skills, interests and healing modalities such as herbal medicine, essential oils, reflexology, acupressure, psychic/mediumship, and so much more....
I have a practice in Cabinteely, Dublin 18, Ireland and also work online. I have clients all around the world, here in Ireland, the UK, USA, Canada and Australia.