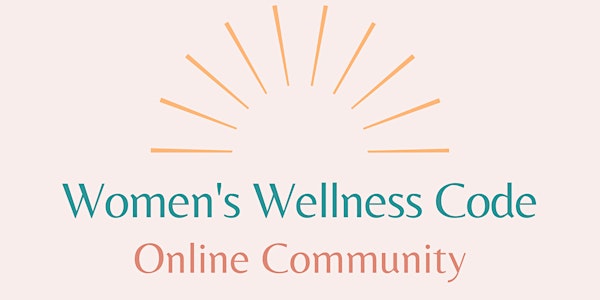 Multiple dates
Women's Wellness Code Community
Reconnect with yourself, build self-love and self-confidence so that you can live a happy healthy, fulfilled life.
Date and time
Thu, 6 Jan 2022 16:00 - Tue, 2 May 2023 14:00 PST
Refund Policy
Contact the organiser to request a refund.
About this event
Enrolment is now Open!
I started the Women's Wellness Code Online Community as a way to help like-minded women come together and work towards becoming the very best version of themselves. Since its inception, the community has grown and developed far beyond my expectations. The amazing women who have joined so far have turned this community into something truly special and I can't wait to share it with more of you.
Lengthy lockdowns have taken their toll on us all and have made connecting with others and ourselves a bit more challenging. The goal of this community is to remedy that, to help you build a sustainable and transformative wellness practice that works for you and fits easily into your life.
If you have been lacking in motivation, feeling disconnected from yourself and those around you, struggling to find the purpose in your days or have dreams that you would one day like to make a reality then this community aims to help with that and so much more.
In this community, we will be building effective practices into your day that will, among other things, teach you to listen to your own body, help to reduce stress levels in the body & mind, improve flexibility and mobility, help you to reconnect with yourself, build self-love and self-confidence so that you can live a happy healthy, fulfilled life.
What to expect?
1 yoga class and 1 meditation practice a week
Full access to hundreds of past yoga and meditation practices
Goal setting at the start of the month, weekly check-ins, Q&A's
A new theme & topics every 8 weeks
Bonus sessions such as self-Care Sunday's and podcasts
Full moon & new moon rituals with cacao ceremonies
Discounts on other online courses and events
Focus on the physical, mental, spiritual and energic aspects of you
Monthly energy forecasts and updates
Guidance and coaching to help you achieve your goals
Each week is scheduled to give the members structure. If the live sessions don't fit into your schedule, don't worry, they will always be available in the private Facebook group so that you can access and complete them at any time. The practices range from 5 minutes to 50 minutes so there will always be something to fit into your day.
Does that sound good to you?
If so sign up now and commit to being fit and well physically, mentally, energetically, and spiritually.
Life doesn't happen to us, it happens for us. Get into the driver's seat, live life consciously with awareness and compassion for yourself and the world around you.
I'm so looking forward to seeing you there,
Namaste,
Katie x
About the organiser
Yoga Teacher, Wellbeing practitioner and transformational trainer
I used to live a very fast-paced lifestyle. Always 10 steps ahead living on empty but somehow still managed to keep going. Juggling the social life, the full-time job and all the other activities, like most 20 something-year-olds. There really wasn't enough hours in the week for me. I  kept telling myself this was the way it was meant to be. I was physically fit on the outside from working out in the gym 6 days a week but inside I was very weak, unhappy and exhausted.
April 2015 I broke my neck in a car accident, in Australia and I had to have a spinal fusion. Suddenly my fast-paced lifestyle came to an almighty halt. I was angry, upset, bored. I couldn't go anywhere or do anything. So my mother dragged me to a yoga class, still wearing the neck brace. She kept telling me it would be good for me. I had my doubts. My perception of yoga was that it was weird and not a relevant form of exercise and definitely not my thing. How could I just lay there and do nothing. Boy was I wrong. I never forget how I felt afterwards. I literally floated out of the class, high on life. Suddenly everything wasn't such a big deal for a few hours. I was ok with everything and my current situation. So I went the following week and just fell more in love after each class. The neck brace came off and I continued doing yoga. Getting back into my routine and fast-paced lifestyle once again but things where a little bit different, yoga had changed my outlook on life physically and emotionally for the better. It definitely helped in my recovery I didn't need to see and chiropractor or physiotherapist.
November of the same year I tragically lost my youngest brother. Our whole world came crashing down. I honestly don't know how we coped or even got through those first few weeks and months but one thing me and my mother kept up was yoga. Like on autopilot we just arrived at class. We still say it was our saving grace through the tough times.
August 2016 I decided to go to India to do my 200hr teacher trainer yoga course, in Rishikesh. After my training, I traveled around the beautiful country searching for teachers and gurus to deepen my yoga practice and knowledge. I also did my Reiki level 1 and 2 out there too. After 3.5 months I came home and starting my very first class in January 2017. And I haven't looked back since. My life has completely changed for the better.
Life is a rollercoaster and it's certainly no smooth ride. But having the skills, knowledge and good people around you is golden. It helps you to cope the best you can in the tough times.
I've been educating and showing my students what I've learned through my experiences. I want to help people who want to help themselves to live their best lives too. How to become strong from the inside which automatically makes you strong on the outside. Just beginning physically strong is only temporary and it's not before the cracks start to show.
This is only the beginning but I look forward to the journey ahead, whatever that might be.
Katie x