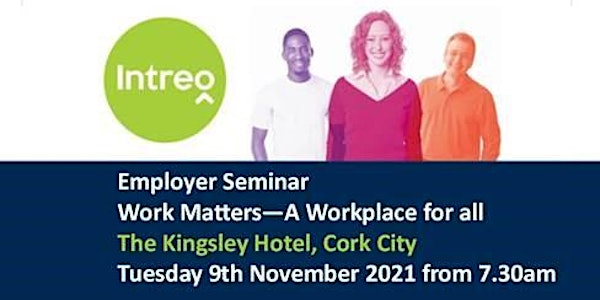 Work Matters - A Workplace for All -Breakfast Seminar
Diversity in the workplace refers to the differences between people in an organisation. Learn how diversity in the workforce can succeed.
About this event
INTREO, the Department of Social Protection employment and income support service, is hosting a breakfast seminar for employers on Tuesday 9th November 2021 from 7.30 to 9.45 a.m. at the Kingsley Hotel, Cork.
Covering practical advice on the wide range of financial and other supports available to employers, the event will also include insights into the experiences of employers in creating greater diversity in the workplace.
The keynote speaker, Paul Deasy, is a Team Leader with Janssen JNJ. He will explain why he is passionate about supporting Mental Health in the workplace and in the community, and will outline how this can be done through action, understanding and empathy. This leads to breaking the stigma and misconception around Mental Health. His experience as an extreme adventure racer has led him from sand to snow from the 50-degree heat of the Sahara to the minus 50 degrees of the Arctic. He has gone beyond the realm of impossible to show what is possible. He describes himself as an extreme explorer of the mental inner self for unlimited potential and understanding of being. He describes his life philosophy as "Between stimulus and response there is a space. In that space is our power to choose our response. In our response lies our growth and our freedom"
Leanne Duggan, Occupational Therapist with the HSE (North Lee Mental Health Services) will give advice on how we can implement a programme of self-care.
In our panel discussions, local employers and an employee will share their experiences of the benefits of an inclusive workplace, and Cork education providers from UCC, MTU Cork, the National Learning Network (NLN) and Cope Foundation will discuss how they are supporting students to be ready for the open labour market.
Refreshments will be served on arrival. We look forward to seeing you on the day.
Please note: attendees will be required to comply with any Covid health and safety provisions that apply on the date of the event. We will confirm these to attendees ahead of the event.

Organiser of Work Matters - A Workplace for All -Breakfast Seminar