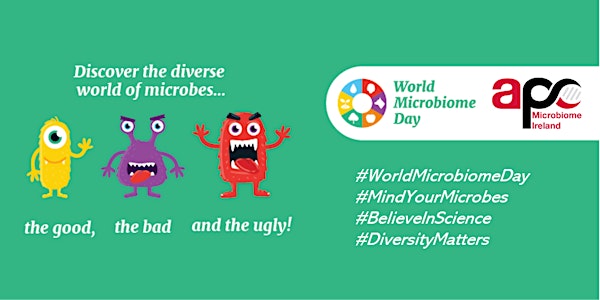 World Microbiome Day Family Quiz
Celebrate World Microbiome Day with our free online family-friendly quiz! You'll need speed and accuracy to win our great prizes!
About this event
APC Microbiome Ireland will host a free family quiz to celebrate World Microbiome Day. The theme this year is Diversity so we're celebrating the diversity of microbes and microbiomes in our world as well of the diversity of people working in microbiome science.
We have some great prizes on offer thanks to our sponsors, BaseClear.
First place = €100 Amazon Voucher
Second place = €75 Amazon Voucher
Third place = €50 Amazon Voucher
Our quiz will happen live via MS Teams on Wednesday 24th June at 7.30 pm BST. We'll be using the Kahoot Quiz app to add some fast-paced fun to our quiz!
What you will need to play:
The Quiz link: we'll send you this on the day of the quiz by email.
A device to connect to the quiz (e.g. a laptop, tablet or computer). This is where you'll see the quiz questions.
A second device with the Kahoot app installed (e.g. a mobile phone). This is what you'll use to answer the quiz questions. You'll be given the Kahoot Game Pin at the beginning of the quiz.
Please download the Kahoot app to your mobile phone before the quiz. You can download the app for Apple or Android devices. There's no need to sign-up/join but having the app downloaded to your device in advance will give you a much smoother quizzing experience!
Play along at home with family.
You can play as an individual or play as a team together at home. If you're playing as a team at home, simply share Kahoot app on your device.
Please share and invite others to register for this quiz - the more the merrier!
Game Rules and Scores:
The quiz will take approximately 40 minutes. Points are awarded for correct answers and speed of answering. At the end of the quiz, Kahoot will announce the top 3 players/teams who will win the prizes.
What happens next?
We'll send you all the instructions by email and a reminder on the day with the Quiz link. Until then, please register and take care.