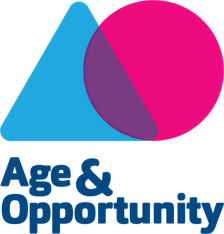 Age & Opportunity
Age & Opportunity is the national organisation that provides a range of opportunities for older people who want to get more involved in arts and culture, sport and physical activity, civic engagement and personal development.
Our aim is to inspire people aged 50+ to live a dynamic life in which they are more active, more visible, more creative and more connected.
One of our key priorities is to truly understand what ageing in Ireland means for people today by increasing the dialogue we have with them - conducting regular research through focus groups and workshops and by generating more opportunities for their feedback across all of our programmes.
We work with local communities and organisations across the country to run a range of programmes and activities in three key areas:
Age and Opportunity Arts provides opportunities for us to engage more in arts and cultural events and initiatives
Age and Opportunity Sport is designed to get us more active and participate in recreational sport and physical activity
Age and Opportunity Engage offers a range of workshops and learning initiatives for our own personal development as well as opportunities for us to play an active role in our community.