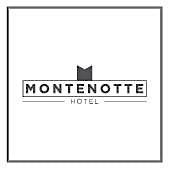 The Montenotte Hotel
Stay Unique @ The Montenotte Hotel
What makes Montenotte Hotel unique? Some say it's our exquisitely refurbished rooms. Or stunning Panorama Bistro & Terrace spectacular views of the cultured City of Cork or our in house 'The Cameo' cinema. Some think the uniqueness is in our location: a stroll from many of Cork's highlights, overlooking the beautiful city, but away from the noise and traffic. Others extol our restaurant with fresh, seasonal cuisine and fabulous cocktails.
Of course, we have everything you'd expect from Cork's freshest boutique hotel: free Wi-Fi; free parking; a leisure club boasting a 20 metre swimming pool, sauna, Jacuzzi and gymnasium. And service. The kind of pampering and attention that will make you not want to go home after your trip.
Hotel residents can enjoy a nightly movie showing in the hotels in-house cinema 'The Cameo'.  Our nightly movies are themed to include Comedy, Oscar Winning, International, Black & White and many more.
The City Suites at the Montenotte Hotel offer guests an alternative for those looking for some extra space or maybe temporary home from home for their stay in Cork. The superb 2-bedroomed apartment units offers all the services of a hotel yet the privacy and space of an apartment perfect for long term stays. Complete with fully fitted kitchens, spacious living areas, Wi-Fi access, car parking, guests of The City Suites also enjoy full access to the Montenotte Hotel's leisure club. Keep fit in our Impulse equipped gym or take a swim in our 20 metre deck level pool, Steam Room, Jacuzzi & Sauna. 
The cultured city of Cork has so much to offer and you will find we have compiled the top 21 of the best things to do during your stay at the Montenotte Hotel including Cork City Goal, Fota Wildlife Park, Everyman Palace Theatre and so much more.  We truly have something for everyone to enjoy and we are only a few minutes' walk from Cork City centre and Kent Train Station.
We have so much to offer at this beautiful boutique hotel that truly is unique.
Sorry, there are no upcoming events