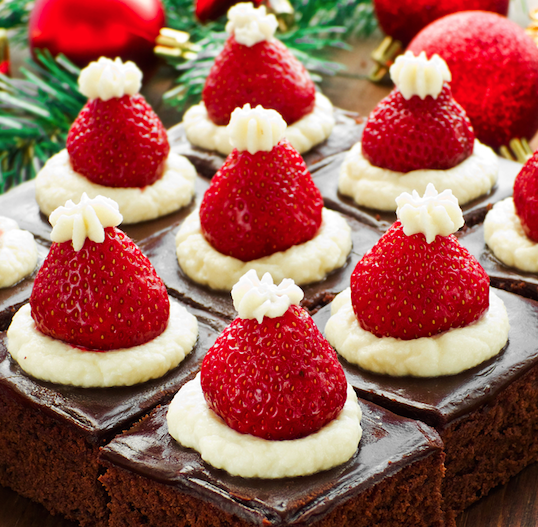 10 Great Christmas Party Food & Drink Ideas
Looking for some Christmas party food and drink ideas? We've got 10 absolute crackers for you (sorry, couldn't resist). We've got some classics that you'll have to feature at your Christmas party and some twists and new ideas that will sure to have everyone talking, and more importantly, have everyone full and tipsy, it is Christmas after all!
Mince Pies
"Not mince pies!" we hear you scream, you can't ignore this classic Christmas treat. Instead of buying store bought, standard pies, why not make your own and jazz them up with added ingredients. Why not make some with cranberries, with melted brie on top? Replace the top pastry with meringue? Or add some chocolate and hazelnuts to the mix? These will really get people talking.

Nut Cracker
The tradition of having nuts at Christmas can be utilised at your party, with an inclusion of a nutcracker. The beauty of this is, you can get people interacting and even competing against each other, as your attendees test their strength by cracking some hard nuts! All in jest and with Christmas spirit of course.

Egg Nog
Just like with the mince pies, you can go down the traditional route, or pimp up your egg nog in several different ways; why not add chocolate to the mix to give it a twist. Sweeten it with white chocolate, or add more bitterness with dark chocolate. Or you could simply serve the egg nog in martini glasses to make an egg nog martini, very sophisticated!
Gingerbread
This can be a chance to tie in your theme by creating anything you like out of gingerbread. A fun idea would be to add all the decoration ingredients on the table and allow your attendees to decorate them however they want. If you're organising a staff party, you could decorate the characters as the staff. Either idea is sure to get some tweet outs!
Christmas Brownies
A simple treat to make, loved by everyone and easy to make Christmassy with the ingenious use of strawberries here. They look cute and as long as you make them nice and gooey in the middle, they'll be shear perfection.

Hot Chocolate (for adults!)
There's nothing like a hot chocolate to warm you up in winter. Add some booze in to the equation and you'll definitely warm up quickly. Why not have a selection of spirits and liqueurs so people can choose what to spike their drink with? We'd suggest Bailey's, Kahlua, peppermint liqueur, or whisky. You could essentially add anything you want to it, but these are some of our favourites.
Christmas Tree Tower
Want to make something a bit more glamorous than gingerbread men? These gingerbread christmas tree towers are a great idea. These can be centrepieces on tables, added to a buffet table as a show stopper, or made smaller, into individual trees for people to eat.

Mulled Wine
Another classic beverage that you can never go wrong with having at a Christmas party. This spiced and deliciously warming drink screams out Christmas. Include some extra spices on the table for people to add more cinnamon, nutmeg etc to taste and for decoration.

Cinnamon Buns
Christmas is a time for people to indulge a little, and we think these cinnamon buns will go down a treat. With all the spiced drinks served, the cinnamon from these buns goes really well with them all. They're filling, tasty and definitely a crowd pleaser.

Candy Cane Cocktail
And now for the pièce de résistance. Candy cane cocktails! This candy cane cocktail is made by infusing vodka with candy canes. You can add milk, white chocolate, peppermint liqueur, cranberry, whatever you fancy! It's a great Christmas twist and you can even lace the rim with chocolate and crushed candy canes to make it look spectacular.