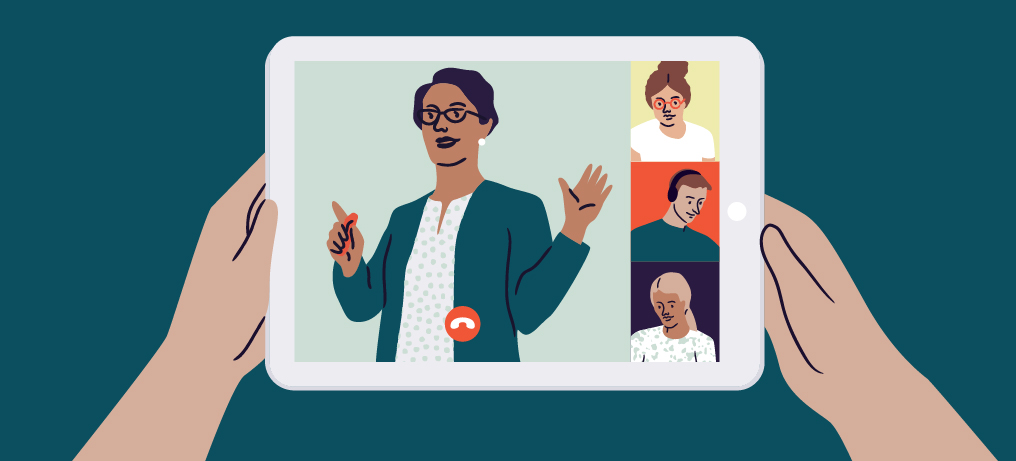 20 Fun and Formal Virtual Event Ideas to Grow Your Audience
2020 is changing the game when it comes to hosting events virtually. From online exercise classes to digital conferences, people are taking part in a variety of experiences from the comfort of their own homes.
Around the world, resourceful event professionals are getting creative in their use of livestreaming to broaden their reach – and they're not always doing it on big budgets. Thanks to inexpensive technology and tools, events of all sizes can reap the rewards of going online.
Virtual means lower overhead costs – after all, you're not budgeting for a venue, event staff, and other in-person necessities. That means you can drastically reduce your outgoings (not to mention your carbon emissions), while spending more on curating the best event possible. Virtual events are also much safer to run in the current climate, as they eliminate the need for face coverings and social distancing.
Lastly, there's the opportunity for audience growth and data tracking. It's much easier to see who's watching what when people from all over the globe are tuning in online – which means you can collect essential data on your target market. Plus, attendee data is exactly what sponsors want, so it can make securing the best ones for your online event far easier.
Here are 20 virtual event ideas to help you pivot to the online world.
1. Teach a workshop on your business expertise
Help others in your industry to upskill by revealing the secrets of your success. As well as generating revenue, an online workshop or live webinar enables you to showcase your authority in a subject and can help to position you as a market leader.
2. Interview an industry influencer
Collaborating with a much-respected person in your industry can help to increase the visibility of your brand. Choose an influencer who inspires and excites you for the most successful live interview.
3. Run a virtual cooking class
Online cooking workshops are a great way for food bloggers and culinary-based brands to connect with their audiences. Why not send a shopping list in advance so participants can create the dish in real-time with you?
4. Turn attendees into customers with a tasting session
Take inspiration from Murray's Cheese. The brand shipped their food products to customers ahead of their online tasting sessions. Add-ons like this are an effective way to forge a physical connection between your brand and your customers, while also boosting sales.
5. Run a Q&A session about your business
A question and answer session gives your company's followers the chance to interact with you on a deeper level. Q&As are easy to organise and can also drive an increase in brand loyalty.
6. Demo your new product
Photos are essential, but there's nothing quite like a video to truly showcase a product. If you have a new release, use livestreaming to introduce it to your audience in a compelling way.
7. Host a networking event
A benefit of virtual meetings is that busy workers can usually slot them into their schedules. Plan icebreaker activities so attendees can get to know one another and try strategies like interactive chat features to keep your audience engaged.
8. Teach online classes from home
When it's not possible to teach your craft in person, do it virtually. Music and meditation are both examples of classes that work well online. Plus, unlike real-life classes, there's no strict limit on numbers in an online setting. That means there may even be an opportunity to scale up your business.
9. Organise a yoga or mindfulness session
If you're a wellness professional, consider hosting an online yoga or mindfulness class. These are particularly useful for attracting customers who may have anxieties about attending in-person wellness events.
10. Put on a music session or comedy night
Performers can reach a wider audience by organising concerts online. You don't need to invest in expensive technical equipment to make a start with livestreaming. An up-to-date laptop with a camera and a built-in microphone will be enough for most events.
11. Start a book club
Searching for a regular event idea? Host a book club. These can be weekly, fortnightly, or even monthly and are the perfect way to build a like-minded community. Simply choose a novel and discuss it during a Zoom session.
12. Organise a speed dating event
If you run networking events or a social club, embrace matchmaking by planning an online speed dating event. You could create a quick-fire round of questions to ask the group or pair people up for one-on-one chats.
13. Take your tutoring business online
Plenty of tutors have successfully taken their businesses online. Individual or small group classes tend to work well virtually as you can personally interact with each attendee. Additionally, why not create entire courses on subjects ranging from black history to English literature to attract a new audience?
14. Hold a murder mystery challenge
Engage followers by planning an evening (or entire week) of interactive fun with a virtual murder mystery event. Send out fancy dress ideas in advance to dial up the drama.
15. Plan a cycling session
Cycling is hugely popular right now, so it's no surprise that biking activities have made the transition to virtual. From organising bike maintenance classes to putting on cycle training sessions, there are numerous options to choose from.
16. Champion social good
Use the internet as a force for good by organising an event that inspires action, education, and awareness of a vital social issue. Creators have organised everything from interviews with leading black voices to seminars on decolonised history.
17. Take travel fans on a virtual walking tour
Perfect for tourism-related brands, an online walking tour allows you to showcase cities in a safe, socially distanced way. Replicate the experience of a real-life guided tour by sharing historical titbits about each stop on the journey.
18. Encourage creativity with an art class
Give people the chance to express themselves with a virtual art class. Painting workshops and life drawing classes work well online. Pick a theme and take the time to show your attendees some useful techniques, asking them to showcase their work at the end. Send a list of materials beforehand so that everyone can sign on prepared.
19. Test your followers' knowledge with trivia
Organising a virtual pub quiz is a hassle-free way to host an evening of entertainment. Find questions online or have fun making up your own – you can also make it more interactive with picture and music rounds.
20. Stick to a seasonal theme
Capitalise on the annual calendar by giving your virtual events seasonal themes. From online Halloween parties to Christmas quizzes, seasonal celebrations make for a great atmosphere.
Make the transition to virtual today
In times of uncertainty, these interactive event ideas are a smart way to connect with your audience and ensure that the human aspect is not lost. As well as bringing people together, virtual events can also help to boost brand awareness and revenue.